Biographical Sketches of Leading Citizens
Lawrence County Pennsylvania 1897


WINFIELD S. TURNER,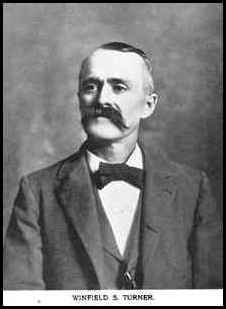 [p. 297] postmaster at Hazel Dell, Wayne township, and also the proprietor of the largest general store in the township, located at the above village, was born in Monongahela Co., W. Va., April 5, 1852. His parentage is traced back through Olridge and Sarah Turner to Olridge and Olive Turner. The grandfather, Olridge, Sr., was a native of England and a tiller of the soil, whose first home in the United States was in Preston County, West Virginia, where Olridge, Jr., was born. The boy Olridge learned the wagon-maker's trade, and followed that until his death, which occurred in 1853, when our subject was but a year old. This sad fatality, caused by a fall from a bridge, left six children to the mother's care; they were named—George W., James N., William R., Winfield S., Martha W., and Cora, all of whom are living. Mrs. Turner's maiden name was Sarah Keifover; the burden of supporting and educating all of the children was so great that after several years of widowhood she married James Walford of Fairmont, West Virginia.
Winfield S. Turner followed agricultural pursuits for several years, and then, learning the carpenter's trade, settled in Mount Morris, Greene Co., Pa., where he employed himself in work associated with his trade until 1896, when he came to Hazel Dell, and bought from J. N. Marshall that gentleman's stock of general merchandise. In January, 1897, Mr. Turner bought a lot on Main Street, and erected thereon a fine building 36x40 feet, making a double store, with dwelling rooms in the upper story. In March he moved the stock into the new building, and now offers to the public as neat and attractive a display as can be found in Lawrence County. Mr. Turner's business has grown, and there is reason for it in the fact of his wide popularity, aside from the self-evident superiority of his stock, that includes dry goods, men's ready-made clothing, hats, caps, boots and shoes, general notions and in addition a line of grain, hay and feed. In his community he is held in high esteem, notwithstanding his comparatively short residence, being affable and genial in his manner, attracting friends on all sides, and the natural result has been an unusually successful start in business.
Mr. Turner married Margaret McCausland, whose father was William McCausland of Allegheny Co., Pa., and the Turner household has had four children born into it; the record is as follows: Gertrude, deceased; Grace; Winfield S., Jr.; and Virginia. Mr. Turner is a Republican of the deepest true-blue dye, and his fidelity and business ability was suitably rewarded on Jan. 16, 1897, when he was appointed postmaster of Hazel Dell. There was merit to prompt such a recognition, and Mr. Turner is a man who wins golden opinions of his companions and associates in business and in other walks of life. He is just in his prime, and has before him many years of usefulness to Lawrence County, and the grand old Keystone State. Ambition and self-confidence wins, where doubt halts, and Mr. Turner is one who will never disappoint the confident hopes of his friends, either in business, social or political life. Socially he is a member of I. O. O. F., Glen Park Lodge, No. 1016, of Ellwood City, Pa. In religious belief he and his wife are Methodists.
Mr. Turner has a clear title to a leading place among Lawrence County's merchants, and it is as a representative of commercial circles that we place his portrait on a preceding page.
---
Biographical Sketches of Leading Citizens Lawrence County Pennsylvania
Biographical Publishing Company, Buffalo, N.Y., 1897
Previous Biography | Table of Contents | Next Biography
Explanation/Caution | Lawrence Co. Maps | Lawrence Co. Histories
Updated: 21 May 2001