Biographical Sketches of Leading Citizens
Lawrence County Pennsylvania 1897


DR. ROBERT E. REDMOND,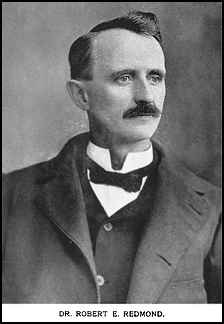 [p. 615] the subject of this sketch, is one of New Castle's leading and most successful practitioners of medicine, and possesses, in addition to a lucrative office practice, an extensive patronage in the surrounding territory. His birth-place was in North Liberty, Pa., and in that place were the years of his boyhood passed, and the rudiments of a common school education mastered. As a boy he dearly loved study for its own sake and for the pleasure to be derived from increasing his stock of knowledge and improving his opportunities; when his age and advanced state demanded better facilities than the district school, he was sent to Pine Grove Academy of Grove City, and from there he went to the State Normal School at Edinboro, Pa., from which he graduated as a member of the Class of 1877. Until 1879, following his graduation, he read medicine under the direction of the Hon. J. M. Martin of Grove City, Pa., and in the fall of that year became a student in the Miami Medical College of Cincinnati, Ohio, and received his degree and diploma, entitling him to practice in 1882. The year previous to his graduation was spent as resident physician in the city hospital of Cincinnati. In the spring of 1882, he located in Grove City, and practiced medicine there three years, removing from that place at the end of the three years to enter a new field he had chosen for himself in the town of Harmony, located in the oil region of Butler County, where he continued until 1893. In the fall of 1894, he located in New Castle, bringing with him an excellent reputation as a physician well versed in all the intricacies and details of the difficult art, and has since been successfully engaged in the practice of his profession, enjoying the confidence and good-will of a very desirable class of patrons.
Dr. Redmond is a son of Henry and Elizabeth (Drenning) Redmond, both of whom were natives of County Antrim, Ireland. Henry Redmond, a farmer by occupation, came to America in 1848, and lived in North Liberty township, Mercer Co., Pa., where he purchased a large farm, a very valuable piece of property now in the possession of his heirs and descendants, almost half a century, dying in 1896, aged eighty-eight years. Sagacious and prudent in his dealings, and exercising excellent judgment in his agricultural labors, he attained a high place in the estimation of his neighbors and fellow-citizens as a prosperous farmer, and was enabled by his financial success to provide liberally for his children. He early espoused the cause of the Democratic party, and ever afterward was found among its stanchest and most serviceable supporters; however, to be known as a plain, honest man, and as a good provider for his family, was the height of his ambition, and it was for this reason that he never filled an office nor posed as a candidate for election, although his great popularity might have warranted him in so doing. His wife, who was named Elizabeth Drenning, made him the proud father of eight children. Mary A., the eldest, lives at home with her aged mother. Samuel is a leading attorney of Mercer Co., Pa.; he married Grace Newell of Punxsutawney, Pa., and has four children: Newell; Henry; Mary; and an infant. Elizabeth married John Smith, and resides in Mercer County on the old homestead. John married Julia McBride, by whom he has two children, and lives in Pittsburg, Pa. Jemima married the Rev. Hazlett, a Presbyterian minister of Butler Co., Pa.; they have two children. William A. married Christie Reigel of Grove City, Pa. Henry married Jennie Black of Grove City, Pa., and their union has been blessed with one child; Henry Redmond is a surgeon dentist of New Castle, Pa. Our subject's father died in 1896, leaving a widow, and the aforementioned family. They were United Presbyterians in their religious belief.
Dr. Redmond, in 1882, led to the altar Mary Rolston of Prospect, Butler Co., Pa., and by this union there was born to him one daughter, Jessie M., born Oct. 27, 1883. Our subject's wife died June 17, 1893, and on July 10, 1894, he entered into a second matrimonial union with Laura F. Gill of Jackson Center, Mercer Co., Pa. Socially, he belongs to the I. O. O. F., and F. & A. M. Lodge of Middle Lancaster, Pa. He retains a membership in the organization of Free Masons of Harmony, Pa., and in the Royal Arcanum of the same town, and is a member of the Knights of Pythias of Grove City, Pa. Religiously, he is a member in good and regular standing of the English Lutheran Church of Harmony, Pa. After Dr. Redmond had been engaged in practice a number of years, he took a post-graduate course at the Jefferson Medical College of Philadelphia, Pa., to better fit himself to cope with the many problems that present themselves to a physician.
The readers of this volume will view with interest the portrait that appears in proximity to this sketch of the genial doctor, whose station among the most prominent physicians of the county entitles him to the highest esteem and respect.
---
Biographical Sketches of Leading Citizens Lawrence County Pennsylvania
Biographical Publishing Company, Buffalo, N.Y., 1897
Previous Biography | Table of Contents | Next Biography
Explanation/Caution | Lawrence Co. Maps | Lawrence Co. Histories
Updated: 23 Jul 2001