Biographical Sketches of Leading Citizens
Lawrence County Pennsylvania 1897


GEORGE B. NYE,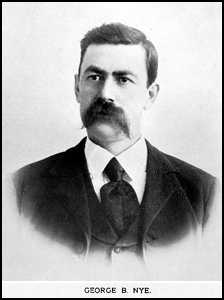 [p. 321] postmaster of Ellwood City, was one of that city's earliest business men, and up to 1894, when he was appointed to his present federal position, he conducted a prosperous men's furnishing store. He was born in Wayne township, Lawrence Co., Pa., July 1, 1863, and was a son of Nahaniel [sic] Nye.
After Mr. Nye had attended the district school, and obtained a fair degree of education, at the age of sixteen, he entered the sandstone quarry, and worked for three years. Then he was employed as a fireman on the P. & W. R. R., and later held a similar position on the P. C. & S. T. R. R. In 1884, he began his business career by purchasing a store in Hazel Dell, and applying himself to the buying and selling of merchandise. He succeeded his grandfather, John H. Marshall, and at the end of four years transferred his interest to J. M. Marshall of Portersville, Pa. The next venture was a men's furnishing establishment in Ellwood City, and the building which he bought for his place of business was the block on the corner of Eighth Street and Lawrence Avenue, two stories high, 20X90 feet, built in 1890 by James Smiley. From 1891 to 1894 he carried on business on an ever-enlarging scale, and met with very satisfying results. His sterlin character and eminent business qualifications led to his appointment as postmaster in 1893; in order that he might be entirely free to attend to his duties, Mr. Nye sold out his stock of goods, and established the postoffice in the same block, using the Eighth Street entrance. That Mr. Nye merited the appointment and confidence of the patrons of the office goes without saying, for he has a well-established reputation as a shrewd man of affairs, upright in his dealings. During his residence in Ellwood City, he has been justice of the peace for a year, and has also officiated as a member of the school board. In Hazel Dell he still has extensive interests, principally of a real nature in land and houses.
Mrs. George B. Nye was Ella J. Smiley before her marriage, and she was a daughter of William Smiley, a prominent agriculturist of Wayne township, Lawrence County. Mr. and Mrs. Nye are Presbyterians in religious belief, and are to be found among the liberal supporters of the church of that denomination in Ellwood City. They have three beautiful children: Bill, born Dec. 28, 1892; Myrtle, March 28, 1894; and George, July 31, 1896. Ellwood's popular postmaster is a member of but one secret organization, that being the I. O. O. F., Alma Lodge, No. 1016. He is a man of decided views, but temperate and gentlemanly in the expression of them. He is not obtrusive in his opinions, while at the same time he holds to them conscientiously, and casts the weight of his influence toward whatever he believes to be for the good of his community and county. He is intensely interested in local matters pertaining to Ellwood City's welfare, and is creditably filling his position as a good citizen of the community.
As a representative and prominent citizen of Ellwood City, in whose behalf his energies have been directed from its first inception, the publishers of this volume take pleasure in adding his portrait to our gallery of leading men of the county.
---
Biographical Sketches of Leading Citizens Lawrence County Pennsylvania
Biographical Publishing Company, Buffalo, N.Y., 1897
Previous Biography | Table of Contents | Next Biography
Explanation/Caution | Lawrence Co. Maps | Lawrence Co. Histories
Updated: 24 May 2001