Biographical Sketches of Leading Citizens
Lawrence County Pennsylvania 1897


DR. JOSPEH L. COOPER,
[p. 27]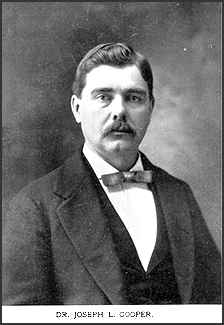 one of the leading and representative physicians of the city of New Castle, Pa., was born in Taylor township, Lawrence Co., Pa., two miles south of the city of New Castle, Feb. 13, 1861. He is a son of Robert L. Cooper, grandson of James Cooper, and great-grandson of Robert Cooper, who was born in County Down, Ireland, and came to this country about the year 1790, settling in Allegheny County, Pa., where he reared his family, and cared for their wants. James Cooper was born in Allegheny, County, in 1796, and in 1843 moved to Lawrence County, where he died in 1861. He married Elizabeth McLester, who died at the age of seventy-six, and they became the parents of seven children, three boys and four girls.
Our subject's father, Robert Cooper, was the second son in order of birth, and first saw the light of day in 1823. He came with his parents to Lawrence County, where he and his brother David bought a farm on Sheep Hill, just south of New Castle, paying $10 per acre for the tract of 100 acres. It was not long before they ascertained that they had stumbled upon a very valuable piece of property, for underlying the whole farm is a bed of superior limestone of the best quality; up to the present time only about fifty acres have been worked and quarried, leaving a large fortune yet to be taken from the earth's bowels. The farm still remains in the hands of the Cooper family. Robert Cooper married Nancy A. Jackson, who with the following children survived him at his death in 1892: James. H.; Elizabeth (Campbell); Leander; Dr. Joseph L., our subject; Charles O., Mary (Caldwell); Maud (Davis); and Dr. Edwin S.
Dr. Joseph L. Cooper received a basis for advanced educational studies in the schools of New Castle, and finished his academic education in the State Normal School at Edinboro, Pa., and in Grove City Academy. In 1881, be became a medical student under Dr. Mont. Linville, of New Castle, in whose office he remained two years; he then entered the Jefferson Medical College of Philadelphia, and graduated in the Class of 1884. He immediately began to practice and located for one year at New Springfield, Ohio, and then came to New Castle, where he has since practiced and established himself as one of the leading physicians and surgeons of the city.
Dr. Joseph L. Cooper married Miss Adella Hoover in 1887; she is a daughter of Ephraim Hoover of New Castle. Dr. Edwin S. Cooper is associated with his brother, our subject. He received his academic course at Grove City Academy, and studied medicine with his brother three years, completing his studies at W. U. of P., graduating in the class of 1896. Dr. Joseph L. Cooper is a member of the Lawrence County Medical Association, and was president of the same in 1896. He is one of the best surgeons in Western Pennsylvania, and his medical practice has grown very extensive, depending upon a reputation for skill and professional daring that is far above the ordinary. One case of a little girl, who was severely burned to such a degree that skin-grafting offered the only chance of saving her life, and restoring her to perfect health, was undertaken by our subject, who, after grafting many hundred pieces of skin, effected a complete cure, and added a world-renowned cure to the annals of modern medical science. He has also at the present writing a remarkable case of the same nature, which is daily yielding to this method of artificial skin-growing, although the art is by no means a new one. It was believed for a long time to be unsuccessful.
We have ever enforced the point that our portrait subjects should stand among the first in their several callings and professions, and so it is with considerable pride we present Dr. Cooper's portrait, an excellent likeness of a gentleman, who excels in his chosen profession and calling in life.
---
Biographical Sketches of Leading Citizens Lawrence County Pennsylvania
Biographical Publishing Company, Buffalo, N.Y., 1897
Previous Biography | Table of Contents | Next Biography
Explanation/Caution | Lawrence Co. Maps | Lawrence Co. Histories
Updated: 12 Apr 2001, 08:45