Education: 1924 Penntonian, Penn Hall School, Chambersburg, Franklin County, PA - Part 2
SELECTIONS from the yearbook contributed by Judy Banja

USGENWEB ARCHIVES (tm) NOTICE
All documents placed in the USGenWeb Archives remain the property of the contributors, who retain publication rights in accordance with US Copyright Laws and Regulations.
In keeping with our policy of providing free information on the Internet, these documents may be used by anyone for their personal research. They may be used by non-commercial entities so long as all notices and submitter information are included.
These electronic pages may NOT be reproduced in any format for profit.
Any other use, including copying files to other sites, requires permission from the contributors PRIOR to uploading to the other sites.
The submitter has given permission to the USGenWeb Archives to store the file permanently for free access.


OF
Penn Hall School

CHAMBERSBURG,
PENNSYLVANIA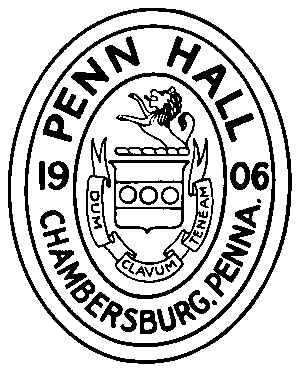 Nineteen Hundred Twenty-Four

Seniors
Motto - Non quantum, sed quam bene
Flower - Forget-me-not
Colors - Blue and Grey

Class Song
Now we're come to the end of our Senior year,
And the time has come for our farewell,
We'll always remember our school days here,
And the friends that we have loved so well.
Though far we may travel on life's long way
And varied our lots may fall
But never forgotten will be today
And our dear old school - Penn Hall.
HELEN FRANCES ANDERSON

"Beeney"

Evanston, Ill.

3 Years

College Preparatory

MARIE ANDREW

"Marie"

Dayton, Ohio

2 Years

Home Economics

ELIZABETH GWYNNE ARMSTRONG

"Ibbie"

Fairmont, W. Va.

2 Years

College Preparatory

MARGARITA LOPEZ ASHFORD

"Margie"

San Juan, Porto Rico

2 Years

Modern Language

ALICE IRVING BALL

"Alice"

Haverford, Pa.

1 Year

College Preparatory

EUNICE MARIAN BALL

"Molly"

Haverford, Pa.

1 Year

College Preparatory

GERTRUDE BALTZ

"Trudy"

Uniontown, Pa.

2 Years

Modern Languages

RUTH BARNHARDT

"Barnie"

Washington, D.C.

2 Years

Pre-Conservatory

ESTHER ELIZABETH BELL

Cleveland, Ohio

2 Years

Home Economics

SARAH ROSALIE BELL

Abingdon, Va.

2 Years

Home Economics

ANNE MONCURE BRINCKLOE

"Moncure"

Easton, Md.

2 Years

Modern Language

JULIA FERN BROWN

"Judy"

Paris, Ill.

2 Years

Pre-Conservatory

LILLIE MATTIE BURDAN

"Mattie"

Pottstown, Pa.

3 Years

Modern Languages

EMILIE JANE CANFIELD

"Janie"

Williamsport, Pa.

2 Years

Home Economics

ANN FLINTHAM COLE

"Ann"

Bronxville, N.Y.

1 Year

Modern Language

GLADYS CRAWFORD COLEMAN

"Pejjy"

Asheville, N.C.

2 Years

College Preparatory

LOUISE COOK

"Cookie"

Camp Hill, Pa.

2 Years

Pre-Conservatory

FRANCES COOKE

"Frankie"

Brooklyn, N.Y.

2 Years

Modern Language

DOROTHY BAILEY CRAIG

"Dot"

Rutherford, N.J.

2 Years

Modern Language

CAROLYN FOWLER DARBY

"Darby"

Westfield, N.J.

2 Years

Post Graduate Course

LILLIAN CAROLYN DIEBOLD

"Lil"

Buffalo, N.Y.

3 Years

Modern Language

AGNES DONEHOO

"Aggie"

Washington, Penna.

2 Years

Pre-Conservatory

DORIS LAPP ESHLEMAN

"Doris"

Yonkers, N.Y.

2 Years

Home Economics

HELEN MARIE FLOYD

"Floydie"

Cleveland, Ohio

2 Years

Art Course

RUTH ELIZABETH GARDEN

"Ruth"

Wheeling, W. Va.

2 Years

Modern Language

EMILY KATHRYN GORMLEY

"Emi-lee"

Washington, Pa.

2 Years

College Preparatory

ANNA RUTH GROSS

"Ann"

Harrisburg, Pa.

2 Years

MILDRED HOWELL HAINES

"Mildred"

Troy, Ohio

2 1/2 Years

Modern Language

MARGARET JEAN HAND

"Jeannie"

South Orange, N.J.

2 Years

Home Economics

HELEN MANN HAWKINS

"Hawkins"

Kingston, Pa.

3 Years

College Preparatory

LORRAINE HOLLEY HUDSON

"Hudson"

New York, N.Y.

2 Years

Modern Languages

MARIAN HUNTER

"Hunter"

Dayton, Ohio

2 Years

College Preparatory

ELINOR ELIZABETH JACOBS

"Becky"

Monroe, Michigan

2 Years

Pre-Conservatory

RUBYE JONES

"Rubye"

Clovis, New Mexico

2 Years

Modern Language and

Expression