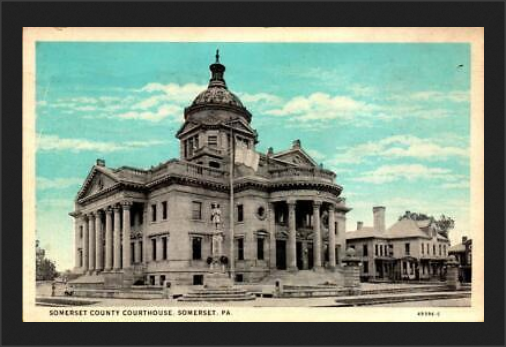 This Site is part of the Pennsylvania Archives Project
Somerset County, PA
Search Somerset County, Pennsylvania portion of the USGenWeb Archives

This Page will constitute the "Main Index" for the Somerset County Archival Records
Please note that there have been major revisions which includes
this page and others.
The information that has been contributed over the years is intact, this is just a new presentation.
Area History ~ Bible Records
~ Biographies ~
Church History
Court Documents ~ Family History & Photos ~ Land Records ~ Newspaper Articles
Schools & Yearbooks ~ Tax Assesments
~ Tombstone Transcription
Project
Tombstone Photo Project: Somerset County
Vital Records:
Marriages & Death Notices
~
Wills & Estates ~ Odds & Ends
Cemeteries: Meyersdale Public Library Collection
Please Use This Link
There is more information on the Cemeteries of Somerset County.
Early on, Volunteers worked transcribing information from WPA Files.
As mentioned elsewhere, WPA Records have shown to be incorrect, but, that said,
they are still valuable.
Please use this Link for updated WPA Cemetery Pages
Military: Civil War
Meyersdale Public Library Collection
Please Use This Link for the Index
INTRODUCTION
Thank you to the late Keith Petenbrink for sharing with us his years of research regarding
the Somerset County men and women involved in the Civil War and
the Meyersdale Public Library for making the data available for online research.
All information is spelled as it is found. If there is information for persons
with identical names which cannot be clearly attributed to one of those persons,
there is a separate entry for that name with that information. We did not
combine names with information unless we were certain such information
pertained to a specific individual.
HELP
Check any possible spellings of the name you are researching. Examples:
Zerfoss/Cerfoss; Zuick/Cick; Critchfield/Scritchfield; Bauman/Bowman.
Ages: Age is listed as it is found. Ages are often misrepresented by minors at
enlistment. We have found at least one where the kid said he was 18 when he
enlisted, but in fact he was 15. We're not going to try to correct this kind of
thing, but want to call attention to the fact that the age is often
misrepresented and could be incorrect.
CONTACT INFORMATION
Please email Jennifer Hurl, Meyersdale Public Library archivist, at jhurl@meyersdalelibrary.org,
with any additions, comments or corrections.
In the Subject line please type CWV Project.
In the body please include the source of your addition or correction.
Additional Miscellaneous Military Records
| | |
| --- | --- |
| Atchison, William P | Nicholson, Benj |
| Critchfield, Benjamin | Pritts, Jacob |
| Critchfield, William | Rice, Christian Sr |
| GAR Honor Roll - 54 PA Vols | Sell, John |
| Mostoller, Uriah | Speelman x Totten [Marriage] |
| | Troutman, Peter |

Roster Records:
Stine, Thomas C ~ Lewis Stinebaugh


Census Transcriptions : Miscellaneous Files
A very old Project, no longer active

Obituaries:
Meyersdale Public Library Special Project Collection:
Obituary Notices from 1930-present published in several county newspapers.
[NOTE: Indicated as MPLB under the Obituary Notices, Contributor Column.]
*Not all obituaries published in the newspapers are included in this collection]

and
Obituaries from 1888-present contributed by individuals published in several county Newspapers

The Obituaries have been consolidated and formatted into batches of searchable pdf files:
A > F
~ G > L ~ M > R ~ S > Z
The Obits that have been contributed for 2020 > 2022 are listed below
For access, use either the search box above and enter the Name of Interest.
or go to the main Somerset Co Site and use the USGW Archives Search Engine
| | |
| --- | --- |
| 2020 - 2022 [Sub Yr] | Name |
| boden16152gob.txt | Boden, Harry Calvin Jr |
| edie17527gob.txt | Edie, John Rufus |
| holebroo17535gob.txt | Holbrook, H L, Mrs -d/n |
| hostetle16149gob.txt | Hostetler, David Jeron |
| kooser17528gob.txt | Kooser, Jacob |
| luther16529gob.txt | Luther, Jane Ann |
| lytle16260gob.txt | Lytle, Louise |
| meyers17529gob.txt | Meyers, Rudolph |
| mong16524gob.txt | Mong, John R |
| mong16525gob.txt | Mong, Gladys R |
| mong16526gob.txt | Mong, Samuel E |
| mong16527gob.txt | Mong, Ellwood L |
| mong16528gob.txt | Mong, Vernon Ellwood |
| ream17530gob.txt | Ream, Samuel W |
| rhodes17531gob.txt | Rhodes, J J |
| snyder16261gob.txt | Snyder, Susan Louise |
| weigly17534gob.txt | Weigley, Polly |
| zelenyak16150gob.txt | Zelenyak, Istvan |
For More Information about Somerset County, Pennsylvania
Please Visit:
The Somerset County portion of the PAGenWeb



Pennsylvania / USGenWeb Archives
~ USGenWeb Project ~ USGenWeb Archives
/
Table of Contents

A note of Gratitude for all of our previous Somerset County PAGenWeb Archives List Managers.
Thank you for all of your hard work, and for the wonderful legacy you have left for us to continue.
April Phillips, Mary Ann Lubinsky & Connie Burkett [Tombstone Project]
Martha A Crosley Graham - Somerset County Archives File Manager
Copyright: USGenWeb Archives
This Page Updated: 11 November 2022