Biographical Sketches of Leading Citizens
Lawrence County Pennsylvania 1897


WICK W. WOOD,
[p. 231]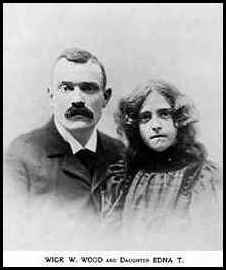 the subject of this sketch, was born in Greenville, Mercer Co., Pa., Dec. 1, 1858, his father being Capt. William W. W. Wood, who was shot at the first battle of Fredericksburg, dying one month afterwards from the effects of the wound at Douglass Hospital, Washington, D. C.; William W. W. Wood was captain of Company G, 145th Reg. Pa. Vol. Inf. Our subject's mother, Mrs. Nancy (George) Wood, who died in 1873 in New York, was a daughter of Clinton George, deceased, who resided near Leech's Corner, about four miles from Greenville. The Wood family originated in England, but came to the English Colonies in America sometime early in 1700. A history of the family for 200 years or more has been kept, which shows that the Wood family in America sprung from Sir Peter Wood, who lived in the middle of the seventeenth century, and who was an admiral in the British navy.
Wick W. Wood and his mother resided in Greenville after the war, but after some years he moved to New Castle and made his home with his uncle, A. W. Phipps, until Sept., 1871, when he went to Mercer, Pa., to school. Leaving school in January, 1874, he entered the office of the New Castle Guardian to learn the printing trade. Concluding his apprenticeship at the trade, he became a newspaper writer, and has been connected with the local press for twenty years or more. For one year he was editor and owner of the New Comerstown (Ohio) Index, a weekly newspaper, but sold out the business and was employed on the different newspapers of Columbus, O. He returned to New Castle in 1884, and was employed on the New Castle News in various capacities until 1888, when in September of that year he became the city editor of the New Castle Daily and Weekly Courant, which is now known as the Courant-Guardian. He still retains the position. Mr. Wood with William Douthitt, ex-sheriff of Lawrence County, was connected with the Ellwood Opera House as manager for the year 1895. He is also the correspondent of the Pittsburg Dispatch, Commercial, Gazette, Post, and represents a large number of newspapers in various parts of the country. He was married Sept. 5, 1880, to Miss Tade Clinefelter, a daughter of George Clinefelter of New Castle. Mrs. Wood was born Dec. 8, 1863, and the couple have one child living, Miss Edna Treadwell Wood, who was born in Columbus, Ohio, Aug. 13, 1884. Mr. Wood has a large acquaintance in the county, and has made a success of his business. The portraits of Mr. Wood and daughter, Edna T., appear on a preceding page.
---
Biographical Sketches of Leading Citizens Lawrence County Pennsylvania
Biographical Publishing Company, Buffalo, N.Y., 1897
Previous Biography | Table of Contents | Next Biography
Explanation/Caution | Lawrence Co. Maps | Lawrence Co. Histories
Updated: 14 May 2001