Biographical Sketches of Leading Citizens
Lawrence County Pennsylvania 1897


SHUBAEL T. WILDER,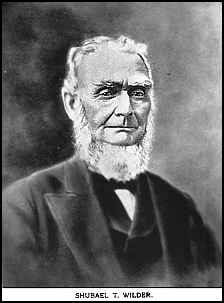 [p. 601] deceased. The development of the iron industry in Western Pennsylvania is of comparatively recent years; a half century ago, the small progress that had been made in utilizing the vast stores of native iron would not have warranted the most sanguine believer in the future of this part of the country in predicting the tenth part of the present industrial development in the working and manufacture of iron and steel. Among the foremost of the promoters of the iron industry, concurrent opinion places the subject of this sketch, who was born in Middleboro, Mass., Oct. 8, 1810, and died in Massachusetts in 1888. He had moved back from New Castle to Middleboro and had lived there about six years when he met with an accident, being killed by a runaway horse.
Nathaniel Wilder, the grandfather of Shubael was one of the early settlers of Middleboro, where he followed the vocation of a farmer. He was twice married, first to Priscilla Pratt, and second to Sarah Wood; by this second union there were several children born, of whom Thomas, our subject's father, and Darius were the only sons. Nathaniel Wilder and wife were Congregationalists.
Thomas Wilder, like his father, also had farming as an occupation, and continued to cultivate the farm in Middleboro all his life. His wife, Lydia Thomas, a native of Plymouth, Mass., bore him four children, of whom the three following lived to maturity: Evelyn H., Betsey B.; and Shubael T. They were also Congregationalists in their religious beliefs and preferences.
Our subject's educational facilities were somewhat limited, extending only till he was fifteen years old, when he set out to support himself, learning the nail-maker's trade and working at it in Middleboro, Mass., until 1836, when he went to Fairview, Pa., where he superintended a nail mill about two years. In the fall of 1838, he moved to New Castle, Pa., where he erected a nail mill about two years. In the fall of 1838, death soon after, Mr. Wilder formed a stock company, which leased the plant and manufactured nails until 1840, when our subject, in company with Mr. A. L. Crawford and brother, bought the plant outright, and the business was carried on there until 1857, when Mr. Wilder went to Cleveland, Ohio, and superintended the building of the Lake Erie Iron Works. He then returned to New Castle, and engaged in the manufacture of steel plates and sheet iron, but was eventually obliged to withdraw himself from active business because of his failing health. He was a man of rare business ability, and New Castle is probably indebted as much to him as any one else for the present development of the iron industry within its limits, which keeps active so much capital and provides work for hundreds upon hundreds of operatives. He was an attendant of the Presbyterian Church, always giving liberally of his wealth for the support of the different churches.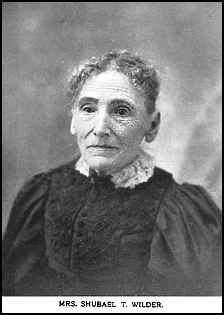 In 1832 he was joined in wedlock with Julia H. Woodward, daughter of Solomon Woodward of Taunton, Mass., and this union was blessed with six children, three of whom now survive. Julia M. married D. B. Kurtz of New Castle, and they have five childrenóCharles M., Emily, Lois T., Edward T, and Kate; one child died in infancy. Mary E. married James M. Clark, and their family consists of themselves and two children: George W., and Julia. Lydia A. deceased, married Henry Hazen, and they had three children, Harry W., Wilbur H. and Shubael M., deceased. Horace A. married Alice Woods of New Castle, and they had two children, Herbert Alfred, and a child that died in infancy, also, named Herbert. Charles Henry and a child unnamed died in infancy.
Mr. and Mrs. Shubael T. Wilder are very appropriately selected as representatives of the highest class of citizens, whose portraits should appear in this volume, which are accordingly given on preceding pages, accompanying the above sketch.
---
Biographical Sketches of Leading Citizens Lawrence County Pennsylvania
Biographical Publishing Company, Buffalo, N.Y., 1897
Previous Biography | Table of Contents | Next Biography
Explanation/Caution | Lawrence Co. Maps | Lawrence Co. Histories
Updated: 20 Jul 2001