Biographical Sketches of Leading Citizens
Lawrence County Pennsylvania 1897


ADAM TRESER,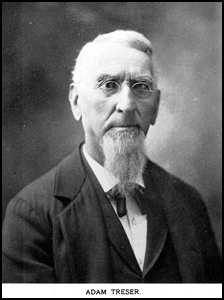 [p. 329] a retired brewer and a prominent and wealthy citizen of New Castle, Pa., whose portrait appears on an opposite page, was born in Germany, Dec. 21, 1819, and is a son of John and Elizabeth (Horn) Treser, both natives of the Fatherland. Our subject's father was engaged in farming and inn-keeping all his life, carrying on both pursuits at the same time. His native thrift and sound judgment, which the citizens of New Castle have seen exemplified in his son Adam, raised him to an eminent place among his townsmen. He married Elizabeth Horn, and to them were born seven children as follows: Magdalena; Catherine; Michael; Elizabeth; John; Adam; and Lizzie. They were Lutherans in their religious belief.
Our subject acquired his education in the schools of Germany, and having proved himself an apt scholar and of a studious bent of mind, he was selected by those who had charge of the educational interests of the town to officiate as pedagogue, and accordingly filled the position of school-teacher for several terms. He then turned his attention to the butcher's trade, the details of which he mastered, and in which he was engaged until his emigration to the United States in 1840. Upon coming to this country he settled in Pittsburg, Pa., where he followed nearly the same general line of business for twelve years more. In 1852, he moved to New Castle, Pa., where he continued in the butcher's business until 1865, when he, in company with Jacob Siegle, under the style of Treser & Siegle, commenced to operate a brewery, and did a very successful business, which proved very remunerative to our subject and his partner. In 1877, the partnership was dissolved, and Mr. Treser carried on the brewing business until 1890, when he retired from active participation in the affairs of the business world. His views on questions of political moment are those advocated by the Republican party; he is everywhere respected as a man of sterling good qualities, and of unimpeachable integrity; he served several years as a city councilman to the entire satisfaction of his constituents and of the city at large.
On March 2, 1843, our subject linked his life and fortunes with those of Catherine Kocher, daughter of Frederick Kocher of Pittsburg, Pa., in the holy bonds of matrimony. Seven children has blessed this union, as follows: Magdalena, deceased; Elizabeth and John, twins, the former of whom is deceased; William, deceased; Lavinia; Emma; and Catharine. John married Martha Morris of New Castle, and has the following children: Stanley, Norman, Flora, Elizabeth, and Albert. Lavinia married Charles Strieb (now deceased) of New Castle, and she became the mother of five children: William, Albert, Charlie, Frank, and Earl. Emma married Rev. John Miller of Beaver Falls, Pa., and the sole issue of the marriage was one child, Paul L., who was left an orphan by the death of his mother a few days after his birth. Paul L. Miller has lived with his grandparents ever since he was eleven days old, and has now attained an age of thirteen years, extremely bright for his years; he attends the public schools of New Castle, and is the pride of his grandparents. Katharine, the youngest child of our subject, lives at home with her parents. On March 2, 1893, Mr. and Mrs. Treser celebrated the fiftieth anniversary of their wedding. Their friends came from different cities to remember them on the joyous occasion; many beautiful presents were bestowed. The family attend the Lutheran Church of New Castle, and are accounted among its warmest friends and supporters.
---
Biographical Sketches of Leading Citizens Lawrence County Pennsylvania
Biographical Publishing Company, Buffalo, N.Y., 1897
Previous Biography | Table of Contents | Next Biography
Explanation/Caution | Lawrence Co. Maps | Lawrence Co. Histories
Updated: 25 May 2001