Biographical Sketches of Leading Citizens
Lawrence County Pennsylvania 1897


EZEKIEL R. SANKEY,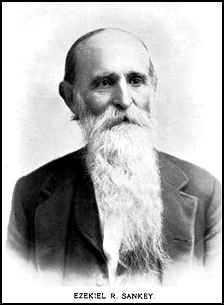 [p. 85] a well-known, retired citizen of New Castle, who has contributed largely to the growth and development of the flourishing city, of which he is now an honored resident, has dealt more extensively in real estate than any other man in the city, and owns at the present time a large amount of property in building lots and dwelling-houses. He was born in the township, Dec. 9, 1817, and is a son of William and Hannah (Ricketts) Sankey, grandson of Ezekiel and Jane (Culbertson) Sankey, and great-grandson of William Sankey. The latter, of whom little positive is known, as he died early in life, was a farmer by occupation, and lived and died in the eastern part of the State. His children were: William; John; Jennie; Annie; Rachel; Esther; and Ezekiel.
Our subject's grandfather, Ezekiel Sankey, settled in Mercer County, and became its second sheriff; he was a popular man with all classes, and progressive in his ideas. He served as major in the War of 1812, and died Nov. 27, 1813. His wife fell into that last sleep, the balm for all sorrow and pain on earth, at the age of ninety-four. They reared the following family of children: William; Sarah; Ann; Jane; Joseph; John Riddle; James; David; Ezekiel; and Theodocia.
William, the eldest son, was born Nov. 27, 1794, and, receiving a portion of his father's estate, he followed farming on the homestead all his life, dying Nov. 27, 1860. His wife was about sixty years old when she died July 12, 1849. Five children were born to them, as follows. Ezekiel R.; Joseph; Thomas F.; Elizabeth; and Jane A.
In his boyhood, our subject improved whatever chances were offered him in the way of an education in the district schools, and assisted his father in the cultivation of the farm; in early manhood, he learned the carpenter's trade, and then that of cabinet-maker, and, desiring to be more than a farmer, to extend his life in other directions, he started on a Western tour, working at his trade at various places. Many of the Western States were visited by him, but to his mind none were so progressive as his own native State, and he accordingly returned home, bought the homestead, built a new house and barns. After he had accumulated sufficient capital, he entered into the business of contracting and building; he then moved to New Castle and bought five acres at the lower end of South Mill Street, which he laid out in lots, erected buildings on them, and sold at an advance value, having become one of the best mechanics and builders of his section of the county. He was engaged to go to Lowell, Ohio, where he helped to construct the first blast furnace ever built in this part of the country; later he built the Greenville furnace, and gained such an excellent reputation at that business, that for several years he profitably followed the business of building and repairing furnaces. He then purchased the Thomas Rice estate, which was located at No. 370 West Washington Street, and built an elegant and commodious brick house, where he has since lived. Having several acres, he laid it out into lots, with the streets and walks complete, erected houses, and has sold a great part of it. He has bought and sold many other lots in New Castle, being interested in twenty-three houses at one time. He also ran a grocery store for seven years.
Mr. Sankey has been married twice. His first wife was Eliza McDonald, daughter of Randall McDonald of Edenburg; she died Aug. 12, 1849, leaving two children: Hezekiah R., born Feb. 13, 1843; Salathiel McDonald, born Feb. 21, 1845, a farmer of Atwood, Kansas, who has seven children—Catherine B., Eggleston C. William W., George V., Ezekiel R., Ervin Mc., Hezekiah A., and Ira D.; Viana, born Aug. 29, 1847, preceded her mother to the grave. Our subject married as his second wife Ann D. Cox, daughter of Joseph and Jane (Law) Cox, who were members of the farming community of New Castle township. Mrs. Sankey was born Sept. 20, 1818. Our subject and his wife are blessed with the best of health, and enjoy as happy and contented life together as one would care to see. They have three children: Olive Jane, born March 3, 1852, is the widow of William Davis, deceased, and has two children—Edna and J. Emerson; Bessie R., born Sept. 6, 1855, married Dr. George W. Greene a dentist of New Castle, and has two children—Mabel and Frances; Edice F., wife of J. C. Norris, a merchant of Mahoningtown, they have one son, Joseph. Mr. and Mrs. Sankey are members of the M. E. Church. Our subject is a Republican in his politics, and has served as supervisor, as overseer of the poor, and as school director.
Charles G. Sankey, agent of the Pennsylvania R. R. at New Castle, was born in that city, Sept. 7,1865, and is a son of Charles C. and Margaret E. (McConahy) Sankey, grandson of Ezekiel and Sarah S. (Jones), and great-grandson of Ezekiel and Jane (Culbertson) Sankey, whose life is recorded above, Charles C. Sankey, the father of Charles G., was born in New Castle township, August 10, 1835, attended its schools, and learned civil engineering, which profession he followed from 1850 until 1865, more or less. In 1861, he enlisted at the first call for troops, and served three months in Co. H. He was then appointed agent of the New Castle station for the Pennsylvania R. R., when but one engine did all the work on the road; he has remained in the employ of the company until the present date, has kept its records, carefully looked after its business, and watched its progress, which is so great that now four engines are required to do the switching in the yards. During this time, he has made many acquaintances, and won to himself many friends, and is held in the highest esteem in the town, and throughout the county, and everywhere he is known. He has been twice married, his first wife being Margaret E. McConahy, daughter of David and Jane McConahy; she died at the age of forty, after presenting her husband, who deeply felt the loss inflicted on him, with five children, as follows: Clyde J., a jeweler of Pittsburg; Charles G., our subject; Fred B., of Pittsburg, traveling passenger agent of the Pennsylvania R. R.; Laura E.; and Margaret. By his second wife, Vienna Montgomery, he has three children: Howard M.; Sarah; and Marion. He owns the fine residence on Wallace Avenue, which he makes his home.
Charles G. Sankey left school March 12, 1884, to accept the position of ticket agent of the Pennsylvania R. R. at New Castle, and on March 14, 1894, he was appointed agent. although yet a young man. He is a very popular and well-liked young man, and is thoroughly conversant with all the details of the business which he manages.
In connection with this biographical memoir, we present the portrait of Ezekiel R. Sankey; this likeness will prove an important addition to the galaxy of portraits of the leading citizens of Lawrence County that appears scattered throughout this Book of Biographies.
---
Biographical Sketches of Leading Citizens Lawrence County Pennsylvania
Biographical Publishing Company, Buffalo, N.Y., 1897
Previous Biography | Table of Contents | Next Biography
Explanation/Caution | Lawrence Co. Maps | Lawrence Co. Histories
Updated: 23 Apr 2001