Biographical Sketches of Leading Citizens
Lawrence County Pennsylvania 1897


ABRAHAM RHODES,
[p. 133]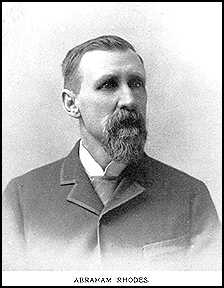 a leading carpenter and builder of Mahoningtown, and a very highly esteemed citizen of that place, was born in York County, Pa., near Lisbon, Oct. 22, 1838, and is a son of Solomon and Rebecca (Bender) Rhodes, who were married in Lancaster City, Nov. 11, 1828. Rebecca Bender was born in Lancaster County, July 10, 1810, and was a daughter of David Bender, who moved from his native county of Lancaster to Lawrence County where he purchased a farm near Mahoningtown and was engaged in agricultural pursuits until his death about 1855, at the age of seventy. He was followed by his wife a number of years later, she having attained the age of seventy-five years. Solomon Rhodes was born in York County, Pa., Jan. 22, 1801 and in early life was a miller, but latterly owned and operated a farm, securing a livelihood by cultivating Mother Earth. He fought in the War of 1812, and in 1818 crossed the mountains and became a resident of Lawrence County, buying a farm in North Beaver township, where he lived until his death at the age of sixty-two years.
Abraham Rhodes, who was the fifth of eight children born to his parents, was ten years old, when his parents came to Lawrence County, where he attended school, and assisted his father in the care of the homestead. Shortly after attaining his majority, the war broke out between the North and the South, and the call to arms found Mr. Rhodes ready to lend his support to the Government. He enlisted in Battery B., under Capt. Cooper, and was with it when it made its famous record at the Battle of Gettysburg; he also participated in the bloody battle of Antietam, and was in the Battle of the Wilderness and in the Peninsular Campaign, taking part altogether in some twenty-two or twenty-three hard-fought struggles. Upon the expiration of his first term of enlistment with patriotic fervor still at fever heat, he enlisted again, and served another year in Co. G, 2nd Reg. Pa. Vol. Inf. On the close of the war and the return of the soldiers to employments of peace, our subject took up his residence with the old folks on the homestead, and lived there one year, and then learned the carpenter's trade with his brother, with whom he was associated in building and contracting a number of years. Since 1885, he has been in business alone. In 1896, he erected a fine, two-story modern residence on Mahoning Avenue, where he and his wife are at home to their many friends. It is more than likely that Mr. Rhodes has been interested in building more houses and places of business in Mahoningtown, Pa., than any other contractor.
His marriage to Samantha Elder, daughter of Robert and Jane (Young) Elder of North Beaver township, occurred in that township, Sept. 16, 1879. Our subject's family comprises three members, as follows: Alvin Elder, a clerk in the dispatcher's office at Lawrence Junction; Lorena J., the wife of Frank Wallace; and John A., an assistant yard master for the E. & P. R. R. at New Castle junction. Our subject and his wife are members of the Presbyterian Church, of which Mr. Rhodes is an elder and trustee. He is a Republican in his political views and has served as an officer in the borough. Mr. Rhodes' portrait may be found on a preceding page.
---
Biographical Sketches of Leading Citizens Lawrence County Pennsylvania
Biographical Publishing Company, Buffalo, N.Y., 1897
Previous Biography | Table of Contents | Next Biography
Explanation/Caution | Lawrence Co. Maps | Lawrence Co. Histories
Updated: 30 Apr 2001