Biographical Sketches of Leading Citizens
Lawrence County Pennsylvania 1897


GEORGE G. PRYOR,
[p. 475] editor and proprietor of the Courant-Guardian, the leading paper of this section of the State, was born in Philadelphia, Pa., Sept. 10, 1859. When he was about six years of age, his parents moved to the banks of the Rhine of America, the noble Hudson, a few miles below Poughkeepsie, N. Y., and in that locality our subject's boyhood and young manhood were spent, and the basis of an education was laid that has proved its excellence by the rapidity with which Mr. Pryor has arisen to the front rank of newspaper editors.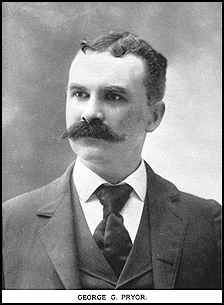 On Jan. 1, 1890, in company with F. W. Corson, he purchased the New Castle Courant, and in 1894 secured the entire control; with the recent growth of New Castle, Mr. Pryor has been a leading factor, and his paper has flourished and prospered. March 23, 1896, the Guardian, a daily and weekly newspaper of New Castle, was consolidated with the Courant under its present name, Mr. Pryor retaining the editorship and control of the paper. The Courant-Guardian wields a great influence in the community, a result due in an unusual measure to Mr. Pryor's strong personality and unremitting efforts. It is fearless and outspoken, is a firm believer in and an adherent of a greater New Castle, and by its consistent and persistent course has done much in building up the city, securing public improvements, and stimulating private, enterprise.
In 1880 Mr. Pryor was married to Jenine S. Scofield, daughter of Thomas and Mary Scofield of Reading, Pa., and they have two children, Edith and Willis. He has an elegant residence in one of the best sections of the city, with a well-stocked library, in which he is a hard student, although prominent in the social affairs of the city. He is a member of the Masonic fraternity, a member of the Presbyterian Church, and an earnest worker in the Sunday School. His life is a busy one, filled with social functions and business duties, and his success shows him to be one of those fortunate individuals capable of a vast amount of hard work. Mr. Pryor's portrait accompanies this sketch, and may be found on a preceding page.
---
Biographical Sketches of Leading Citizens Lawrence County Pennsylvania
Biographical Publishing Company, Buffalo, N.Y., 1897
Previous Biography | Table of Contents | Next Biography
Explanation/Caution | Lawrence Co. Maps | Lawrence Co. Histories
Updated: 9 Jul 2001