Biographical Sketches of Leading Citizens
Lawrence County Pennsylvania 1897


JAMES K. POLLOCK, M. D.,
[p. 61]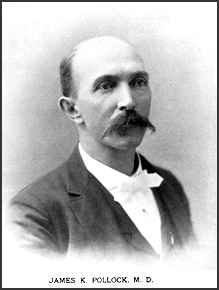 of New Castle, whose portrait appears on the opposite page, occupies an enviable position among his fellow-practitioners as a physician whose diagnoses of cases are very rarely found wanting, and whose treatments are seldom known to fail; for this reason he is often called in consultation with the other doctors, and is known widely beyond his immediate field of practice. He was born in that part of Shenango, township, once known as Pollock township, and now included in the present city limits of New Castle, April 19, 1845, in a house which stood on what is to-day the site of the Erie R. R. yards, and directly opposite the Vulcan Foundry. His grandfather, Dr. Joseph Pollock, was a very prominent physician of New Castle, Pa., and was considered by many to be the best physician and surgeon in Western Pennsylvania. He married Rachel Morehead, daughter of James Morehead of New Castle, and to them were born the following children: Perry A.; Milo, who married a Miss Van Horn, daughter of Hon. Samuel Van Horn; Hiram, the father of the subject of this sketch; Camilla N., who married William Maitland of New Castle, and bore him these childrenóJohn, Martin, Perry, Irene, and Addie; Isaphoena married William McMillin of New Castle, and they were: given three childrenóMary, Joseph, and Frank; Belinda married R. W. Clendenin of New Castle and they have three childrenóWallace, Wells, and Mary; Adaline married Joseph White of New Castle, and their family consisted of: Alice, Crawford, Eva, Joseph, Fred, Carrie, and Mary; Laura married John Mitchell of New Castle and had four childrenóWilliam, James, Mary, and Kittie; Caroline married Dennis McCoy; and Josephine, who married William Sommers of New Castle, and bore him three childrenóFrank, Carrie, and Irene. Frank is one of the successful Klondike miners, reaching California in September, 1897, with fifty thousand dollars. In religious belief the family favored the Presbyterian Church. Our subject's grandmother was called home in the fall of 1874.
Hiram Pollock, our subject's father, was educated in the schools of Williamsport, and when a young man engaged in agricultural pursuits, but as his health could not stand the exposure incident to a farmer's life, he became interested in the boating business, running a packet between New Castle and Pittsburg, Pa., which he carried on several years. Later in life, he engaged in lumber business in New Castle, continuing in this vocation till his retirement in late life. His death occurred April 15, 1896, aged seventy-six years. In his political affiliations, he was originally a Republican, but latterly became a Prohibitionist. He married Sarah Elizabeth Kerr, and to them were given four children: James K., our subject; Mary V., who married Joseph Gemmil of New Castle, Pa., and has two childrenóMary and Elizabeth; Lucy, deceased; and Hiram S., who married Louise Young of New Castle and has one child-Lewis. Mrs. Pollock died in 1890, aged sixty-eight years. They were Presbyterians in the matter of church attendance and membership.
Dr. Pollock obtained his grammar-school education in New Castle, and in 1861 became a drug clerk in the New Castle Dispensary, then managed by James Shields of New Castle. He remained in that connection about ten years, and then read medicine with Dr. Barker of New Castle as preceptor. Late in the winter of 1871-72, he entered the Miami Medical College of Cincinnati, Ohio, and graduated in 1873. In 1872, prior to His graduation and to receiving his diploma, his first field of practice was in Harlansburg, Pa. In 1873 he opened an office in New Castle and late in 1874, he removed to Chuckatuck, Nansemond Co., Va., where he remained a year and a half, returning from there to Harlansburg, Lawrence Co., Pa., in 1876. In 1879, he located permanently in New Castle, where he has been very successfully engaged in attending to a general practice. He is a member of the Lawrence County Medical Society, and also belongs to the F. & A. M., Lodge of the Craft, No. 433 of New Castle, Pa. Polically, he is a firm Republican, and held the office of coroner about sixteen years.
On Sept. 25, 1873, he was joined in marriage with Margaret E. Cox, daughter of Albert G. Cox of New Castle, Pa.; of their two children, Kittie died at the age of three years and six months, and Maggie was removed from the home by an All-Wise Providence, when aged six months. Mrs. Pollock died in 1888. On June 19, 1889, he formed a second union with Dora B. Douthett of New Castle, daughter of Joseph Douthett. He married his third wife, who was Ella M. Newton, daughter of G. A. Newton of New Castle, May 5, 1893, and to them has been given one childóRachel B., born Feb. 5, 1895. Mrs. Pollock is a member of the Christian Church, while her husband belongs to the Presbyterian Church.
---
Biographical Sketches of Leading Citizens Lawrence County Pennsylvania
Biographical Publishing Company, Buffalo, N.Y., 1897
Previous Biography | Table of Contents | Next Biography
Explanation/Caution | Lawrence Co. Maps | Lawrence Co. Histories
Updated: 17 Apr 2001