Biographical Sketches of Leading Citizens
Lawrence County Pennsylvania 1897


PROF. WILLIAM PARSONS,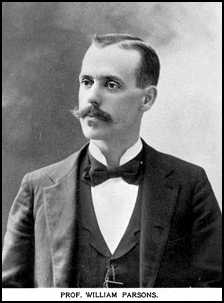 [p. 369] the leading music-teacher of New Castle, band and orchestra director, and accomplished cornet player, was born in Cornwall, England, Dec. 11, 1865 and is a son of Jabez and Susanna (Sweet) Parsons, and grandson of Joseph and Rebecca Parsons. Our subject's father was born in Cornwall, England, and in early life learned the shoemaker's trade, but later in life also worked at mining. After his son came to America, he became anxious to see this glorious country, and to become a resident of it, and so in 1887 he followed with his family, and has since lived in Hazelton, and Salem, Ohio, and now lives in Ellwood City, where he carries on shoe-making. He is also a skilled teacher of music, and is leader of the Ellwood Band of twenty-four pieces, and of the Wampum Band of twenty-three pieces. Twelve children were born to him and his good wife; of this number two died as infants, those living are: Alice the wife of Richard Thompson of Yorkshire, England; Prof. William the subject of this sketch; Annie, the wife of Asa McDonald of Greenville, Ohio; Bessie, the wife of E. Rummel of New Castle; John, a machinist; Jennie, the wife of R. Raber of Salem, Ohio; and Tillie, Harry, Elena and Arthur, who live at home.
Prof. Parsons in his youth worked at the Pease mines in Yorkshire. When a boy, he exhibited a passionate love for music and a natural musical ability, such that his father, who was confident of the latent skill developing into something far above the average, placed him under the instruction of the best music teachers of the cornet, and the result soon convinced him that his hopes were well-grounded, for William acquired such a knowledge of the instrument and ease in handling it, as to place him in the front rank of performers. At the age of twelve years, he took part in a public contest of seven cornet players at Spinnymore, England, and won the first prize. In 1884 and 1885 he entered six different contests in Yorkshire and Durham, England, and won five out of the six. At this time he also was a member of the Skinniegrove Band, which was the best in Yorkshire. Having an uncle who was living in New Castle, he decided to come to this country and locate in Lawrence County and make the teaching and performing of music his profession, having been instructed by the best teachers of the art. The people in the county in which he lived having received a notification of his intended departure for the new world, with the people of Skinniegrove, Yorkshire, England, presented him with a richly hand-engraved B flat cornet from the workshop of F. Besson & Co., of London, Eng., which took thirty-one medals at the London and Paris Expositions. He also took as a letter of introduction and as a testimony from Prof. Robert Bell of Skelton, R. S. O., Yorkshire, a graduate M. C. O., the following: "I have the greatest pleasure in testifying to your ability as a first-class musician, and also a performer on the cornet of the first order, and capable to take any orchestra, brass-band, or musical society in hand, and to conduct and teach the same. (Signed) Prof. Robert Bell, M. C. O." Our subject arrived in New Castle in 1886, and soon established himself with a very good patronage, and has not only taught performers on the cornet, but has also given instruction in playing the piano and in other musical instruments. In 1894, he organized and instructed the Elwood City Band. His labors in the advancement of the musical interests of the city, and in furnishing the best of music for various functions have won him the generous support and good will of a large part of the citizens. In 1892, he bought a vacant lot, then covered with timber, at No. 109 Pearson Street, cleared and brought it to grade, and on it erected a beautiful home. He also owns a choice building and lot adjoining his home.
Mr. Parsons is an expert paper hanger and gives considerable time to that business, having decorated many of the walls of the most prominent homes in this section.
Prof. Parsons married Valina Lorena Rummel, daughter of Jacob Rummel of New Castle, and has two children: William Otto, born Dec. 25, 1889; and Florence Adelia, Aug. 6, 1893. Our subject invariably supports the Republican party. He belongs to the Knights of the Golden Eagle, is a member of the K. of P. Lodge, Musical Union of the United States, and is a member and manager of the Mendelssohn Orchestra of New Castle, Pa. His orchestra furnished the music for the opening season at Cascade Park, season of 1897. Prof. Parsons filled six seasons as cornet soloist, with the famous Toerge Orchestra of Pittsburg, at Bedford Springs, Pa. He has also played with the leading bands and orchestras of this section of the country.
Prof. Parsons is at all times prepared to furnish on short notice bands or orchestra music of the highest order for parties, receptions and other engagements. His portrait, found on a preceding page, is the likeness of a man who has cultivated the musical and ethical side of his nature, and risen to a place of prominence by reason of his superior talents, and the hard work that was necessary to bring them into the perfected state.
---
Biographical Sketches of Leading Citizens Lawrence County Pennsylvania
Biographical Publishing Company, Buffalo, N.Y., 1897
Previous Biography | Table of Contents | Next Biography
Explanation/Caution | Lawrence Co. Maps | Lawrence Co. Histories
Updated: 30 May 2001