Biographical Sketches of Leading Citizens
Lawrence County Pennsylvania 1897


SAMUEL MOORHEAD,
[p. 175]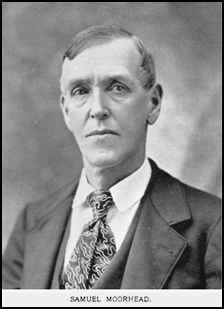 an extensive contractor of New Castle in the construction of sewers, and in street grading and paving, resides at No. 201 West Washington Street. He was born in Neshannock township, Mercer County, on a farm, that is now included within the limits of the borough of West New Castle, Aug. 18, 1837, and is a son of John and Jane (McCleary) Moorhead. Our subject's mother was born in New Castle, May 10, 1816, and died there Dec. 12, 1889; she was a daughter of Samuel and Nancy (Gordon) McCleary, who died at the ages of forty-four and sixty years respectively. Samuel McCleary was a stone-mason in early life, and it is claimed that in 1812 he erected the first two-story building in New Castle, building it on the plot of ground where the Y. M. C. A. Building now stands. He was also a large farmer, and owned a valuable tract of 400 acres, now located in the borough of West New Castle. In addition to his other lines of business and occupation, he kept a large store, where the Rink Building is now located on Beaver and Washington Streets. He was a man of unusual business tact and energy, and although he died at the early age of forty-four years he had accumulated a fine fortune for those days.
John Moorhead, our subject's father, was a son of James and Katherine Moorhead, and was born on the same farm as was his father—a tract bought by his grandfather, William Moorhead, between New Castle and Mahoningtown, now within the city limits. William Moorhead was born in what was then Westmoreland County, and came to Beaver County, prior to 1775, and purchased three or four hundred acres of rich farming land in the river bottoms. He followed farming all his life, and was finally laid away to rest in Greenwood Cemetery. A cherry tree some six feet in circumference, is growing above him, and has crowded from its pedestal the moss-grown slab, on which is carved in quaint old letters: "Beneath this stone lies the body of William Moorhead, who died May 27, 1819, aged seventy-one years." James Moorhead, his son, died in 1857, at the age of eighty-two years; his wife was a Miss Christy. He was engaged in pursuits of an agricultural nature all his life, and owned in addition to the ordinary farm buildings a still-house, as it was the custom in those days for every well-to-do farmer to utilize his surplus crop of rye in the manufacture of spirits. Everyone kept a decanter of "old rye" on the sideboard, and its contents were as free as water. When our subject's father came to the age of choosing a profession or of being apprenticed to a trade, his father bound him out to a hatter on Beaver Street, with whom he served his three years of apprenticeship; after learning the trade and becoming entitled to journeyman's wages, he gave it up, as he did not like it. He soon afterwards became interested in railroad building, and developed into a railroad contractor, and was known extensively through Western Pennsylvania and the upper Ohio Valley. As soon as he was old enough, Samuel Moorhead worked with his father in street grading, paving, etc., and when of age went into partnership with him, which relation continued until his father's death in 1887, at the age of eighty-seven years. Of the six children, born to John and Jane (McCleary) Moorhead, only two survive: Samuel, the eldest, and Charles, the third in order of birth.
Samuel Moorhead was four years of age when his father moved to the borough of West New Castle, and made his home in a house on the lot where our subject now resides, and where he has been living since 1841, though the old house has been replaced with a handsome modern residence, which is supplied with all the modern conveniences, and furnished tastefully throughout with all those comforts, that go to make a home so dear. He attended the various public and private schools in New Castle, and finished at the seminary, near the Presbyterian Church. After he had attained his majority, in order to further perfect himself for a successful business life, he took a course in the Iron City Business College of Pittsburg. The earliest work in which he was engaged with his father was on the Baltimore & Ohio R. R., near Wheeling, Va., in 1851, that being several years prior to their partnership. Their first work under the firm name of John Moorhead & Son was on the Northwestern R. R. in 1857. In sewer construction and in grading and paving streets, Mr. Moorhead has executed a large amount of work, of which quite a considerable part has been done right at home in New Castle, and it bears eloquent testimony to his ability to perform large contracts, and to do them well to the satisfaction of the taxpayers.
Mr Moorhead was first married to Ada Alcorn, who was born May 12, 1853, and died March 3, 1894. His second marriage was with Jennie M. Fullerton, daughter of James and Ann (Clark) Fullerton. Mrs. Moorhead is a member of the church in which her husband was baptized, and under whose watchful care he grew up. Mr. Moorhead is a Republican, and at all times gives hearty support to the men and measures of his party. He has served his borough as auditor and as assessor, and has been elected to other offices, but he has respectfully declined to serve, for the pressure of his own business seemed to demand his whole attention. As a prominent and respected citizen of New Castle, we place Mr. Moorhead's portrait on a preceding page in connection with this brief outline of his life.
---
Biographical Sketches of Leading Citizens Lawrence County Pennsylvania
Biographical Publishing Company, Buffalo, N.Y., 1897
Previous Biography | Table of Contents | Next Biography
Explanation/Caution | Lawrence Co. Maps | Lawrence Co. Histories
Updated: 3 May 2001