Biographical Sketches of Leading Citizens
Lawrence County Pennsylvania 1897


WILLIAM MONCREIF,
[p. 239]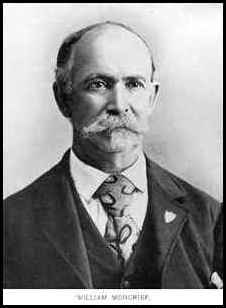 burgess of West New Castle, whose portrait appears on the opposite page, was born in Bridgeton, N. J., Aug. 22, 1830, and is a son of Hugh Moncreif, who was also born in the same place.
Our subject's father was a hatter by trade, and served his full apprenticeship with Mr. Johnson of Bridgeton; he worked at this trade only a few years, for his health suffered noticeably from the confining, indoor nature of the employment, and he accordingly drifted into other channels of industrial work, becoming at last a brick-maker, which remained his vocation through the remainder of his life. He lived to be eighty years old. He married Clarissa Bacon of Greenwich, N. J., who died at the age of ninety-four years, and reared the following ten children: Benjamin, who died in New Castle; Carolina (Foster); Robert, now a resident of Bridgeton, N. J.; an infant deceased; Mary, who died at the age of eighteen; William, the subject of this notice; Franklin, now in Vineland, N. J.: Rachel (Loper); Hugh, now in Bridgeton; and Horace, deceased.
At the age of thirteen years, our subject started out in life for himself, beginning at that age a three years' apprenticeship in a nail factory at Bridgeton, in 1843. Upon learning the trade, he went to Phoenix, Pa., where he remained for a year, then to Norristown, Pa., and then to Booneton, N. J., in which place he remained eleven years working at his trade. In the spring of 1861, he enlisted in Co. F, 3rd Reg. N. J. Vol. Inf., and served three years and three months in the late war; the regiment formed a part of the First Brigade, which was attached to the First Division of the Sixth Army Corps. After he returned from the fighting at the front, he made Bridgeton his home until 1872, when he moved to Pittsburg, Pa., and worked in a nail factory until 1875, when he came to New Castle, and worked in the factories until 1888, when he was compelled to leave his trade because of poor health, and to engage in some lighter employment. He conducted a confectionery store at No. 67 Cemetery Street, where he also lived, until its destruction by fire March 24, 1897. He is now retired.
Mr. Moncreif married, as his first wife, Sarah Millington, who died in 1860, leaving two children: Rachel A. (Sutton); and Hattie E. A number of years after the decease of his first wife, he formed a second matrimonial union with Mary Miller of Philadelphia, Pa. Mr. Moncreif is a member of the Union Veteran Legion, and was elected burgess of West New Castle in the spring of 1897. Among his fellow-citizens he is a deservedly popular man, for he is a simple, unostentatious man, whose good points became more attractive and noticeable upon closer acquaintance. His faithfulness and the strict attention he gives to the work that lies before him have always made him well liked by his employers, and assisted in bringing to him a good custom in his trade.
---
Biographical Sketches of Leading Citizens Lawrence County Pennsylvania
Biographical Publishing Company, Buffalo, N.Y., 1897
Previous Biography | Table of Contents | Next Biography
Explanation/Caution | Lawrence Co. Maps | Lawrence Co. Histories
Updated: 14 May 2001