Biographical Sketches of Leading Citizens
Lawrence County Pennsylvania 1897


ROBERT McKNIGHT,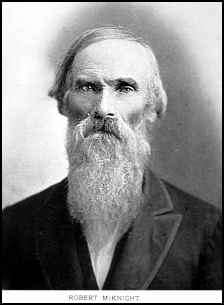 [p. 575] a prosperous agriculturist of Hickory township, was born in the above township April 17, 1832. His father, John McKnight, came to this country from County Derry, Ireland, in 1811, and worked at first in New York City; later he settled on a farm, in 1825, where his son now resides, taking the land in its virgin state, and by many improvements bringing it into an excellent state of cultivation, thus acquiring an excellent reputation as an enterprising and successful farmer of his day. He was well-read and well-informed and profited by his large experience in life to advance his own private interests and to contribute intelligently to the growth and prosperity of Lawrence County. He was a Democrat in his political tendencies. He married Mary E. Smith, daughter of John Smith of old Virginia stock, she was born in Beaver Co., Pennsylvania. Ten children blessed their union, namely: Mary; Elizabeth, who married William Chaffer of East Brook, who had five children—Hannah, Mary, Jennie, Martha, and John; David S., who married Elizabeth J. Brown of Harlansburg, Pa., and their children were—William J., Joseph, David S., Mary, Sarah, Thomas J., and Lizzie; John, deceased; Hugh, who married Margaret Robinson, who bore him—Alice M., John, William R., Joseph, Jesse D.; James P., deceased; Joseph and Robert, twins, the latter is the subject of this sketch, the former married Sarah McConaghy of East Brook and has two children—Jane H. and Eva L.; Hannah; and William S., deceased. They were esteemed members and active workers of the United Presbyterian Church.
Robert McKnight was educated in the district schools of Neshannock township (now called Hickory), and when his days as a pupil were over, he himself wielded the birch and imparted instruction in the good, old-fashioned way for a number of terms in the schools in the vicinity of his home. He then learned carpentering as a trade, which he followed until 1861, since which time he has given his whole attention to agricultural pursuits, the homestead which was his father's yielding him a handsome profit each year for his labors. He is a public-spirited citizen, and has always kept alive an intelligent interest in whatever pertained to the good of the educational interests of the township or county. He is outspoken in his endorsement of the aims and principles as advocated in the platform of the Democratic party, and consistently votes for that party's nominees. He has officiated as school director, and has also held several other offices. In regard to his religious preferences and likewise those of his family, it may be said that they are consistent members of the United Presbyterian Church.
In 1857 occurred the marriage ceremony which united Mr. McKnight and Nancy J. Campbell for life; she was a daughter of Robert and Drusilla Campbell, who were residents of Hickory township. Eleven children have blessed their household: James M.; Mary; Emily E.; Drusilla; Lizzie, who married J. W. Hamilton of Plain Grove township, and has three children—Grace, George, and Jay; John; Flora; Martha; Robert; Charley, deceased; and Belle. Mr. McKnight is an upright citizen, highly esteemed in the community, and exerts his wide influence in the promotion of its best interests. In connection with the foregoing outline of Mr. McKnight's life, we present his portrait on a preceding page.
---
Biographical Sketches of Leading Citizens Lawrence County Pennsylvania
Biographical Publishing Company, Buffalo, N.Y., 1897
Previous Biography | Table of Contents | Next Biography
Explanation/Caution | Lawrence Co. Maps | Lawrence Co. Histories
Updated: 17 Jul 2001