Biographical Sketches of Leading Citizens
Lawrence County Pennsylvania 1897


COL. ROBERT B. McCOMB,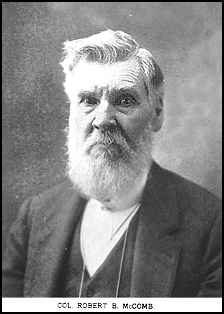 [p. 557] a prominent politician and lawyer of New Castle, too well-known to the residents of Lawrence Co., Pa., to need any introduction, was born Aug. 15, 1820, in Mercer Co., Pa. He is a son of Malcolm McComb, and a grandson of Robert McComb, who was born near Wilmington, Del. After his son Malcolm moved to Mercer County, he came also in 1808, and remained until his death at the age of seventy-seven years. He married Jane Stevenson, and they reared seven children. Malcolm McComb, the second son, was born in 1792, and in 1806 came to Mercer County and cleared a farm in Lackawanna township, where he died in 1849. He married Jane Summerville, who died at the age of seventy years. Six children were born to them, of whom our subject was the second son.
At the age of seventeen years he began to learn the trade of a cabinet-maker, and in 1839 went to Cincinnati, Ohio, where he remained until 1843, when he returned to New Castle. In 1851, he undertook the study of law under the direction of D. B. Kurtz, and was admitted to the bar in 1853. During the same year he was elected to the lower branch of the Legislature. In 1855 he was re-elected, and at the organization of the House was made chairman of the Committee on Ways and Means. His position on this committee caused him to examine into the revenue system of the State, and the inequality of our mode of taxation; he then first conceived the idea of abolishing the tax upon real estate for State purposes, and proposed to make up the deficiency in the revenue by levying a tax upon the gross receipts of railroad companies, reasoning that real estate had to bear the burden of local taxation, which was enough on that class of property. The tax on real estate was ultimately abolished. During this session he also drafted the Sunday Liquor Law. In 1856 he was again re-elected. He is a Republican, and holds that our prosperity depends upon the protection of American industries, and a purely national currency, adequate to the productive power of the people.
In 1862 our subject served as colonel of the 14th Reg. Pa. Vol. Militia Inf., and in 1863 was at the head of the 55th Reg. Pa. Vol. Inf. Col. McComb married Anna L. (Guerard) McGuffin of Savannah, Georgia, and has one child, Harriet G., who became the wife of Lewis B. Hamilton of Waterbury, Conn. Mrs. McComb was, before her marriage to Col. McComb, the wife of the late John A. McGuffin, and by this union there was one child, Johanna, who married W. N. Rodgers of Savannah, Georgia. Col. McComb's portrait is shown on a preceding page, and is an excellent likeness of a gentleman who is prominent, popular and successful in life.
---
Biographical Sketches of Leading Citizens Lawrence County Pennsylvania
Biographical Publishing Company, Buffalo, N.Y., 1897
Previous Biography | Table of Contents | Next Biography
Explanation/Caution | Lawrence Co. Maps | Lawrence Co. Histories
Updated: 16 Jul 2001