Biographical Sketches of Leading Citizens
Lawrence County Pennsylvania 1897


DAVID C. MARSHALL,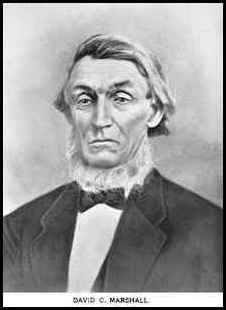 [p. 273] a highly esteemed citizen of Wayne township, who is practically retired from his occupation of farming, and is living on his estate near Chewton, was born in Lawrence County, in Little Beaver township, December 20, 1815. His parents, were John and Elizabeth (Clark) Marshall, and his grand-parents were Hugh and Hannah Marshall.
Hugh Marshall was born in northern Ireland, and with his wife and children started out to make a home in the new country that offered such attractions to them. They stopped at Pittsburg, and in company with a Mr. Crawford, Mr. Marshall set out for what is now Big Beaver township. They made a small clearing, but were hindered by the Indians to a great extent and made little progress until William Penn purchased the territory of the red men, and peace was established between the wild denizen of the forest and the advancing heralds of civilization. There were four sons in the family, and when Mr. Marshall died he left the task of carrying on his work to his eldest son, John.
In time John Marshall became the owner of 400 acres of land, and gave to each of his sons a good farm of large dimensions. He was a stirring, hard-working pioneer, and brought about all the increase in his worldly possessions, by his own efforts. He lived to the age of seventy-five, while his wife was seventy-eight when she was called to lay down her earthly burden and enter into rest. Their children were: David C.; John; Marvin, who lives on the old farm; Margaret; and Hugh James. Mr. Marshall during the War of 1812 was a private, stationed at Fort Erie.
David C. Marshall spent his boyhood and youth at home, and on attaining his, majority bought the Robertson farm of 104 acres, a greater portion of which he cleared in the subsequent years of his occupancy. In 1857, he built a home on it, and gradually gave a spirit of thrift and prosperity to the whole place, adding extensive barns in 1873. Mr. Marshall had had large interests in sheep-raising, but of recent years, because of the unprofitableness of that industry, he has paid more attention to dairying, and to grain producing. At the present time, because of the weight of his years, he leases the farm to responsible parties, but still lives in the house that he built there.
Mrs. Marshall was once Margaret Davidson, and her father was a native of Ireland. She was born in Beaver Co., Pa., July 1, 1816, and died July 5, 1895. Our subject's children are as follows: Elizabeth Jane, who is housekeeper for her father, and has devoted herself to the care of her parents in their last years; John is spoken of elsewhere in this volume; Sarah Margaret married I. T. Spangler and is demised; Andrew died at the age of six; William Hillis is treated under a sketch bearing his name as the title; Mary M.; and Rachel Nannie, who died in girlhood. In the earlier days of political parties, Mr. Marshall was a Whig, but ever since the stirring campaign that put Abraham Lincoln in the President's chair, he has been a Republican. He has held various offices of trust in the township, and is a strong, virile character. He takes a great interest in educational matters, and considers it the duty of every community to look after the younger members, who in time will follow in the footsteps of those who are passing away. It is scarcely necessary to say that this upright man and good citizen is receiving his just reward in the appreciation of his many friends and neighbors. In illustrating this Book of Biographies, the publishers have limited themselves to presenting only the portraits of leading citizens who are representative of some section or of some distinct walk in life. With this in view, we have presented Mr. Marshall's likeness on a preceding page, for he holds an indisputable position of prominence among the successful agriculturalists of Wayne township.
---
Biographical Sketches of Leading Citizens Lawrence County Pennsylvania
Biographical Publishing Company, Buffalo, N.Y., 1897
Previous Biography | Table of Contents | Next Biography
Explanation/Caution | Lawrence Co. Maps | Lawrence Co. Histories
Updated: 17 May 2001