Biographical Sketches of Leading Citizens
Lawrence County Pennsylvania 1897


MILTON S. MARQUIS.
[p. 125]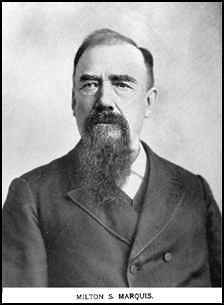 The history of every city of progress and enterprise always includes the biographies of certain of its enterprising citizens, who have made themselves especially prominent in forwarding the growth and development of the place, and these men of indomitable will and unconquerable energy invariably have arisen from honorable though humble walks of life, and have surmounted the ladder of success step by step till they reach a position that is the cynosure of the eyes of their fellow-citizens. To this class of citizens, whom the people denominate as self-made, we must surely include Mr. Marquis, who is a manufacturer of brick and dealer in limestone, and also connected with many of the important manufacturing interests of New Castle. His record offers a splendid example of what may be accomplished in an up-hill struggle by one to whom no discouraging obstacle offers a complete barrier to progress.
Our subject was born in Beaver Co., Pa., March 15, 1830, and is a son of John and Elizabeth (McMillen) Marquis. John Marquis was a native of Washington Co., Pa., and a descendant of a family of French Huguenots, who were driven by religious persecutions to Scotland; thence they emigrated to Virginia, then a newly-organized colony, and landed at the head of the James River in 1706; from there in succeeding years they made their way westward, and finally came into Washington Co., Pa., where they permanently settled. John Marquis early in life supported himself by teaching in the district schools. He never allowed himself to lose the advantages of his good school-training, but studied very much and was a great reader. He learned the carpenter's trade, and settled in Beaver County, where he bought a farm, and became a very popular man, well known for his good judgment and was often called upon to give his advice in medical matters. He was a clerk in the church, and held many of the town offices, retiring in his later years to Lisbon, Ohio, where he became nearly ninety years of age, his wife died some years his junior. Their children were: David; James; Martha; Samuel; William; and Milton S., the subject of this personal narrative.
Our subject started out in life at a very early age, with only a district school education, but splendidly equipped with an ambitious spirit and an exceptionally fine judgment, which needed only the school of experience to adapt it to every need and to broaden its powers and capabilities. His first pursuit was in boating on the old "Cross-cut" and Beaver Valley Canals, and at the age of nineteen years we find him a captain of a canal boat. With a prudent thought for the future he saved his earnings and invested his money, buying a one-half interest in a canal boat, and later secured the entire interest; he so well managed his interests and took advantage of the prosperous times on the canals, that he at one time owned seventeen boats and carried on a large freight and packet business. In 1860, with O. H. P. Green he built and put on the canal a propeller or packet boat, and ran from Warren, Ohio, to the Ohio River, and down the river to Wheeling, West Virginia. When the canal was finally abandoned, he entered into the limestone business with Mr. Green, and bought and operated limestone quarries at Mahoningtown; later on the company became Green, Marquis & Shinn, then Shinn was succeeded by Geo. W. Johnson, and still later the company became Marquis & Johnson, which continued until 1888, when the partnership was dissolved, and the property divided, Mr. Marquis taking the plant, where he is at present located in New Castle, and where he has since manufactured brick and dealt in limestone. He started in to manufacture brick with a capacity of 5,000 a day, and now turns out an average of 90,000, employing in and around his limestone quarries, brickyard, mullers, presses and kiln upwards of 125 men; since 1888, he has manufactured nearly all the brick that has been needed for building purposes in New Castle, and also ships large quantities outside; besides ordinary building brick, he also manufactures a fine quality of fire brick, and buff and red pressed brick, and street-paving brick. He is a stockholder in the Shenango Valley Steel Co., Lawrence Glass Co., and Thompson Run Coal Co.; he is also president and sole proprietor of the New Castle & Butler R. R., a stockholder in the New Castle Steel & Tin Plate Co,, and in the Shenango Valley R. R. Co. During the continuance of the firm of Green, Marquis & Johnson, Mr. Marquis and Mr. Johnson engaged extensively in the cattle business, buying large droves aggregating as high as 9,000 head, driving them through the Indian Territory to Nebraska, where the cattle were fattened and put in shape for the market; this business continued about two years under the supervision of Mr. Marquis.
Our subject married Miss Martha Stoffer, daughter of John and Nancy Stoffer, and has eight children, seven of whom are living. The record is as follows: Elizabeth, who married F. W. Biddle, who is now deceased, leaving seven children; Laura is a clerk in her father's office; William H., who married Carrie Jones, is superintendent and manager of the brick works, and has one child, Harold E.; Charles D. is a bookkeeper in the brick works; Grace Greenwood is the wife of Charles Greer; Ida lives at home; Harry, deceased; Frank W. married Lucy Miller, and is an assistant at the works. Mr. Marquis was originally a Whig in politics, then became a Republican, and is at present affiliated with the Prohibition party. He is a member of the M. E. Church, and a member in good standing of the I. O. O. F.
In connection with this narration of Mr. Marquis' successful life, the publishers of this Book of Biographies esteem it a great pleasure to present his portrait, which appears on a preceding page in proximity to this.
---
Biographical Sketches of Leading Citizens Lawrence County Pennsylvania
Biographical Publishing Company, Buffalo, N.Y., 1897
Previous Biography | Table of Contents | Next Biography
Explanation/Caution | Lawrence Co. Maps | Lawrence Co. Histories
Updated: 29 Apr 2001