Biographical Sketches of Leading Citizens
Lawrence County Pennsylvania 1897


ISRAEL N. GRIFFITH,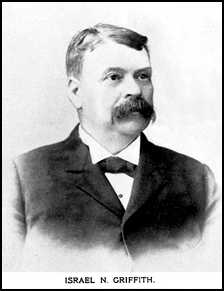 [p. 337] yardmaster of the Pennsylvania Company at New Castle, and residing at No. 23 West North Street, was born near Centerville (now East Bethlehem) Washington Co., Pa., Jan. 31, 1844. He is a son of Joel and Eliza A. (Nixon) Griffith.
Our subject comes of the famous old Griffith family of the Monongahela Valley. This family was descended from one of three brothers, who came over to this country with William Penn in 1682, and settled in New Castle County Delaware. William Griffith the great-great-grand-father of Israel N., was a son of one of these hardy pioneers; in early life he took a journey up into York Co., Pa., in search of land, and after encountering the severest hardships, and enduring many privations, he selected the location for his future home. Returning to Delaware to secure horses, farming utensils, etc., he married a Puritan maiden named Esther Davis, and made his home near Warrentown, in the famous valley of the Susquehanna. Jacob Griffith, son of William and Esther (Davis) Griffith, married Lydia Hussey, and their fourth born child, Israel, who saw the light of day in York Co., Pa., in 1784 became in course of time the grandfather of our subject. The family moved to the western part of Pennsylvania in 1791, settling in Washington County, where Joel Griffith, the father of Israel N. Griffith, was born Oct. 13, 1809.
Joel Griffith learned the carpenter's trade, and also followed the trade of a miller, his father having built a mill on Pike Run, a mile and a half from Centerville, a mill that is still standing and in operation. Joel Griffith's father, Israel Griffith, as noted before, was born in York County, Pa., in 1784, the 28th day of December; his life came to a close in 1864. The old house in Washington County, where he lived over a century ago, is still standing, and is the home of the widow of a grandson, Oliver R. Griffith. Joel Griffith died May 27, 1870. He married Eliza A. Nixon, who was of Irish descent, a native of Washington County, and a daughter of Adam and Nancy (Brinton) Nixon. Adam Nixon was a farmer by occupation, a Presbyterian in regard to his religious views, and a Whig partisan in politics; he was born April 5, 1789, and died October 19, 1842.
Of eight children born to his parents, Israel N. was the third in order of birth. He lived in his native county until reaching his majorty [sic], attending district school until he was seventeen, and, when not in school, working with his father in the mill from the time he was twelve years of age until 1865. In April of that year, he enlisted in the Union Army, and served six months in the Shenandoah Valley and West Virginia, being stationed much of the time at a sort of headquarters at Winchester, where he had a great deal of hard riding. On his return from the army, he did not take up the milling business, but rather went into a machine shop, where he remained three years. He then became traveling salesman for an agricultural company, and was on the road one year, when the company failed. On Jan. 1, 1871, Mr. Griffith was appointed brakeman on a passenger run of the Ft. Wayne, Pittsburg & Crestline R. R., and "broke" on passenger and also freight trains until September, 1872, when he became conductor, serving in that capacity until 1881. In the spring of that year, he became yard-master for the Pennsylvania R. R. at New Castle.
Mr. Griffith was married July 14, 1870, at Alliance, Ohio, to Loretta E. Day, a native of Deerfield, Ohio, and a daughter of John M. and Sarah A. (Smith) Day. Three children have been born to our subject and his wife: Bessie L., the wife of Charles Pleas, foreman and manager for The Edwin Bell & Sons Co. of New Castle; Stella J.; and Paul E. Mrs. Griffith is a member of the Presbyterian Church. Our subject is a stanch and unyielding Republican, and casts his vote uniformly with the caucus choice. He has taken Masonic Orders, holding memberships in the Blue Lodge, No. 491; Chapter No. 41; and the Council of Alliance, Ohio. Mr. Griffith's portrait we have presented in connection with these notes of his life on a preceding page.
---
Biographical Sketches of Leading Citizens Lawrence County Pennsylvania
Biographical Publishing Company, Buffalo, N.Y., 1897
Previous Biography | Table of Contents | Next Biography
Explanation/Caution | Lawrence Co. Maps | Lawrence Co. Histories
Updated: 26 May 2001