Biographical Sketches of Leading Citizens
Lawrence County Pennsylvania 1897


REV. MOSES C. ALEXANDER.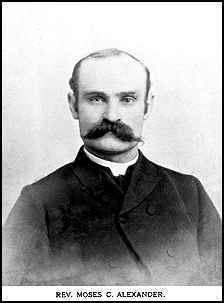 [p. 451] The ministerial profession in Lawrence County includes among its members as earnest, learned, and able Christian gentlemen as may be found in any part of the State. The early history of this section is inseparably linked with the history of the early churches, which came into being as soon as there were a few of the same mind who could gather together and worship their Maker as their consciences dictated. The excellent moral tone that is so evident in all the circles of society and among all classes is directly traceable to the influence of the Christian organizations of all denominations that have indeed performed a worthy work in rearing generations that fear God and love their fellow-men. Rev. Moses C. Alexander, the gentleman whose name is the title of this life review, and whose portrait accompanies this sketch on the opposite page, is the beloved and esteemed pastor of the Unity Baptist Church of Harlansburg, Pa., and as such exerts a powerful influence for good in his own community in Scott township and in regions contiguous to his own residence and field of work. His preparation and consecration for the work of winning and bringing souls under the Standard of the Cross dates farther back than his own birth, for his father and grandfather before him were both zealous workers in the Master's vineyard.
Our subject was born in Cecil Co., Md., Jan. 24, 1859, and was a son of Rev. John T. and Annie E. (Sherwood) Alexander, and grandson of Rev. William T. Alexander. The latter was a native of England and came to America before his marriage in the latter part of the eighteenth century, and settled in the northern part of the State of Maryland, where he was mainly engaged in following pursuits of an agricultural nature, especially in the late years of his career. He was educated for the ministry, and as an expounder of the blessed truths of the Gospel he passed the years of his early manhood. He was an intelligent, far-seeing man, and in his business affairs was very fortunate, accumulating a handsome property, and being considered a very prosperous and well-to-do gentleman for that time. He married Margaret Sleigal, a native of Ireland, and to him and his wife were born the following named children: William J.; Robert E.; George W.; James A.; Justus; Rev. John T., our subject's father; Mary A.; and Julia D. His death took place in 1801, when he was aged about seventy-eight years. His wife crossed the River of Death to join those gone on before in 1812, when she had attained an age of seventy-five years. Our subject's grandfather was a minister of the M. E. faith.
Rev. John T. Alexander was educated in the common schools of his native town in Maryland, and after completing his elementary education pursued a further course in theology in Dickinson College, located in York Co., Pa., in the vicinity of Harrisburg. His ordination took place when he was twenty-five years of age in 1842, and he preached thereafter the remainder of his life, his death occurring July 7, 1868. He belonged to the Baltimore Conference of the M. E. Church, and became very prominent in religious circles, especially of his native State. His first charge was in Harford, Harford Co., Md.; his second in Elk Neck, Cecil Co., Md.; his third in Towson, Baltimore Co., Md.; his fourth in Baltimore City, Md., where he was pastor of the old Fayette Church. He was then transferred into northeast Maryland, but finally returned to Elk Neck, where his demise took place. His wife, Annie E., was a daughter of Phillip F. and Mary (Ward) Sherwood of Baltimore, Md. Their union resulted in the children whose record is given below: Charles P. is deceased; John T. married Louisa A. Shallcross of Cecil Co., Md.; Horatio S. married Myram Jenny of Cecil County, and has three children: Walter, Frederick, and Annie B.; Alonzo F. is deceased; Joseph R. married Mary Leithead of Philadelphia, Pa., and has a family of three, consisting of Mary E., Bessie C., and Smith T.; James A., now deceased married Susanna Baldwin of Harford Co., Md.; Annie E. became the wife of Joseph Coslett of Cecil Co., Md., and bore him this family, Grace L., Roy E., John T., Albert J., Florence M., and Ruth M.; Alonzo I. is unmarried; Moses C. is the subject of this personal history; Rev. Aaron I. married Catherine McNealy of Greene Co., Pa., and their children number three, Edward E., J. Clark, and Nora H.; Mary L., the youngest of the family, is now deceased. Mrs. John T. Alexander still survives her husband and enjoys a contented life, full of manifold blessings, at the home of her son, Rev. Moses C. Alexander.
The early education of Mr. Alexander was received in the schools of Cecil Co., Md.; he graduated at the West Nottingham Presbyterian College in 1880, and during the two following years attended the Louisville Theological Seminary, from which institution he received his degree in 1882. His first pastorate was at Mount Rocky, Chester Co., Pa., where he remained one year, after which he filled out a year's service in the church at Wrightsdale, Lancaster Co., Pa. He then removed to Welsburg, Brook Co., W. Va., where his pastoral duties detained him for two years. In 1887, he moved to Wheeling, W. Va., where he was ordained a minister of the Baptist faith; after which he accepted a call to the Harvey Church of Greene Co., Pa. In 1889, he moved to Columbia, N. J., where he labored in the field until 1891, when he returned to Wheeling, where he took the last course in bible theology. Now thoroughly equipped as a minister of the Baptist persuasion he returned to Columbia, N. J., where he remained until 1895, when he came to Harlansburg, Pa., and took charge of his present pastorate, in which he has been very successful and has had his zealous efforts for the good and betterment of the community crowned with the best of results. His work is well planned, and he is able to get through with a large amount of work, because of the great amount of experience that he has had in religious circles. Broad in his views, sincere and outspoken in his attitudes on living questions that concern the life and welfare of the people, and zealous and earnest in all that he sets his hand and his heart to, he is a man whose influence is felt on all sides, and one who will leave a lasting impression on his community.
On April 28, 1897, Mr. Alexander led to the altar Mary B. Davis, daughter of George L. and Mary (Boone) Davis of Glasgow, Cambria Co., Pa., and made her his wife. They live in a pleasant home where they delight to entertain their parishioners and to extend a hearty welcome to all who honor them with their presence.
---
Biographical Sketches of Leading Citizens Lawrence County Pennsylvania
Biographical Publishing Company, Buffalo, N.Y., 1897
Previous Biography | Table of Contents | Next Biography
Explanation/Caution | Lawrence Co. Maps | Lawrence Co. Histories
Updated: 6 Jul 2001