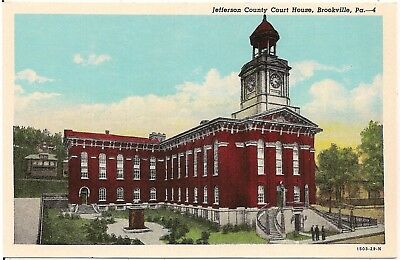 This Site is the Jefferson County, PA
portion of the USGenWeb Archives

Search all of the Pennsylvania GenWeb Archives
Contribute Your Research

Jefferson County Files:
All of the text files can be found here: Please Use This Link:
Each set is under a specific heading.
<<<New>>>
Marriages: 1892 & 1893: Reynoldsville Star
If you wish to search just the Headstone Images & Transcriptions: Please Use This Link
Creating an 'all inclusive Index' for the Files turned out to be messy.
So... Here is a pdf of all the files. There are links on the headings that should work.
However, if you don't what to bother with the Index, use the links above and find information.
Or... send me a question. Perhaps I can point you to other resources
Contact: Martha

Commemorative Biographical Record
Of Central Pennsylvania,
Including the Counties of
Centre, Clearfield, Jefferson and Clarion,
Containing Biographical Sketches of Prominent & Representative Citizens
& Many of the Early Settled Families.

Chicago: J H Beers & Co, 1898
Illustrated:
Volume II - Index
<<<???>>>
The transcribed bios for Jefferson can be found in the PA Archives.
Please use this link or the table below with links to individual transcriptions.



To post a query, ask a question, or find out more about the County:
Visit the Jefferson County portion of the PAGenWeb
Here is a selection of maps for Pennsylvania
Historical Pennsylvania Maps
~
Another Historic Map Site
Historic Maps of PA
Perry Caste??eda Map Collection
~ Historic County Lines
Pennsylvania Topo Maps
USGW Archives: Maps
Civil War Maps ~
Caldwell's Historical Atlas: 1878
Additionally, Census Record Transcriptions for all PA Counties can be found here.
The format used on the Archive Sites is bulky and difficult to search.

Martha A Crosley Graham
,
Jefferson County Archives File Manager
Copyright
: USGenWeb Archives Project 1997 - Present ~ All rights reserved.
This Page Updated: 6 January 2022