Atoka County, Oklahoma Archives
The Smith Family
Submitted by: Scott Havard
Photos & records were contributed by my cousin,
Marilyn Elaine Pounds Collum, wife of Lesley Charles Collum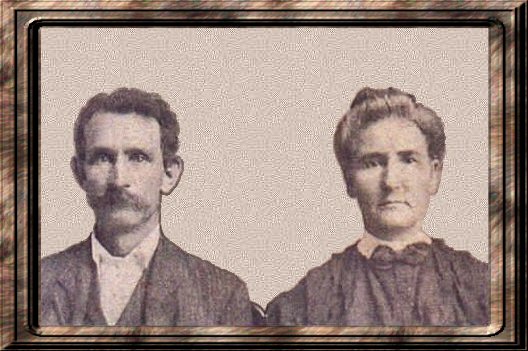 Commodore Perry Smith and his wife, Nancy Laurinda (Carter) Smith
Taken in 1887. They are the great-grandparents of Marilyn Elaine (Pounds) Collum

Commodore Perry Smith & wife, Nancy Laurinda (Carter) Smith.

The original photo, the frame was added for this page.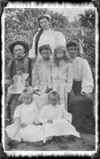 Commodore Perry Smith, wife Nancy & their six daughters.
Seated is Commodore and Nancy Smith. Standing in back is Cordelia Smith.
The six girls are as follows: Standing between Commodore and Nancy are Julia & Inez Smith.
In front are the twins Stella & Della Smith, sitting on her daddy's lap is Delilah Smith.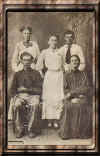 Seated: Commodore and Nancy Smith
Behind Left to Right: Cordelia, Delilah and her husband Si Perkins.
Commodore Perry Smith and oldest son, Commodore Smith.
Photo of the Blacksmith Shop in Caney, 1900-1919
Nancy Laurinda Smith
Caney Pioneer, Dies At Age 100


Nancy Laurinda Smith
(Mrs. Commodore Perry Smith)
Caney Pioneer - News Article

Smith Family Land Patent mentioned in the article of Nancy's 100th birthday.
The claim was for the land they built their home on and she lived there for over 75 years.
It shows they paid $6.00 for the property from the Choctaw Nation in November of 1902.
County Treasurer's Office - Atoka Co., OK
C.P Smith, 1909 Tax Receipt
Caney, Oklahoma
Commodore P. Smith, 1910 Tax Receipt
Caney, Oklahoma
C.P Smith, 1913 Tax Receipt
Caney, Oklahoma
---
This page is maintained by: Gene Phillips for the USGenWeb Archive Project

Oklahoma State File Manager - Gene Phillips

This Page Last Updated: 11/14/08
---