Atoka County, Oklahoma Archives
The Pound Family
Submitted by: Scott Havard
Some photos on this page were sent by my cousin,
Marilyn Elaine Pounds Collum, wife of Lesley Charles Collum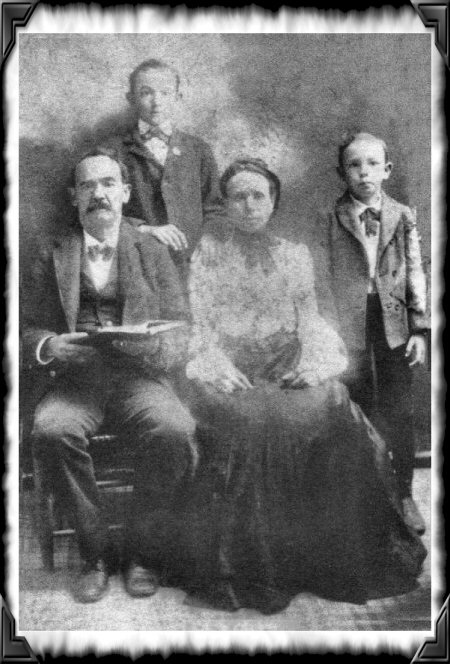 Newman Lafayette Pound, Nancy Louise (Pool) Pound, and their two sons,
Newman Thomas (left) and Paul Oscar Pound (right) Photo taken about 1902.
Nancy Louise (Pool) Pound, was my great-great-aunt.
Nancy was the aunt of Mary Jane (Norton) Laster.
All lived in Atoka County and all are buried at Bethany Cemetery, except Newman
Thomas Pound, he died in Texas. Newman Lafayette was born on 6-10-1847 and
Nancy on 12-5-1854 both born in Arkansas, later moving to Atoka Co., OK.
Notice the bible in his hand. He and his two sons were all ministers of the Gospel in Atoka County
This is the application for indigent confederate solders For Newman Lafayette Pound. They were ordered to surrender at Louisiana a group of some 60 men or so but after seeking permission they were allowed to march to Fort Smith where they grouped in formation and marched in to the fort singing Dixie Then surrendered their weapons stepped back and were given 1 days ration and ordered to return at another predisposed time and swear allegiance to the U.S.
Newman Thomas Pound and wife, Minnie Leah (Barnett) Pound.
Minnie was sister to Annie Laurie Barnett wife of "Will" Eddie Laster.
Newnam Thomas Pound
Birth Certificate
Newman Thomas and Minnie Leah Barnett
Marriage License - 23 Sept, 1911

Mary Annie Cordelia, Nancy Elizabeth,
Minnie Viola Eunice, Ona Neomi, Jessie Mae Pounds.
Daughters of: Newman Thomas Pound & wife, Minnie Leah (Barnett) Pound.
The three at top were born in Atoka, OK., the other two in Coalgate, OK.
Julia and Paul Pound,
Wedding Photo, 24 Sept 1919
Julia and Paul Pound
Paul & Julia Pound - Marriage License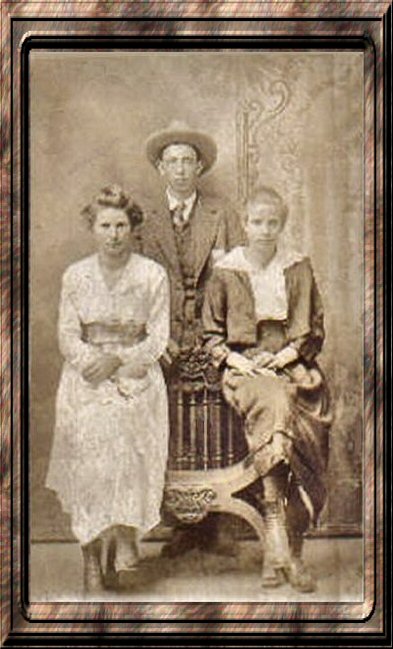 Paul Pound & his wife Julia Gertrude (Smith) Pound & her sister Inez Smith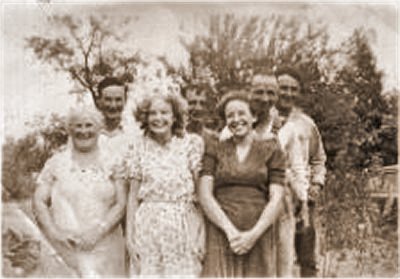 Paul & Julia Pound Family about 1946
Front row, right to left: Julia Gertrude, Stella Gertrude, Cecil Erskin.
Back row, left to right: J.G. Pound , Paul Oscar Pound, Paul Oscar Pound Jr. & Benjamin Shelton Pounds. Due to an error made by the Army that could not be corrected, Benjamin Pounds is the only one with an S at the end of the name Pound. (oldest child, Winfred not in picture)
NOTE: J. G. Pound is the full name not initials. His first name is the letter J. and his middle name is the letter G.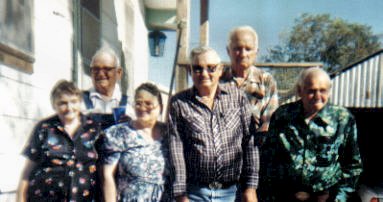 Paul & Julia Pound & Children
Photo taken in 1994 at Ben's home in Tushka, Atoka Co., OK.
Front row left to right: Stella Pound Thurman, Cecil Pound Lamb, J.G. Pound, Winfred Pound.
Back row left to right:

Paul Oscar

Pound Jr. and Benjamin Shelton Pounds.
NOTE: Marilyn Elaine (Pound) Collum writes; "Ben's (my dad) last name has an s added, compliments of the

U.S. Army

. He was never able to get them to leave that s off. He finally gave up."
Benjamin Shelton Pounds & Edith Marie Thurman
Certificate of Marriage - Nov 01, 1952
They were married in Rattan, Pushmataha Co., OK
They also lived in Tushka & Atoka County.
Benjamin Pounds
Deacons Ordination
21 May 1966
---
This page is maintained by: Gene Phillips for the USGenWeb Archive Project

Oklahoma State File Manager - Gene Phillips

This Page Last Updated: 11/13/08
---