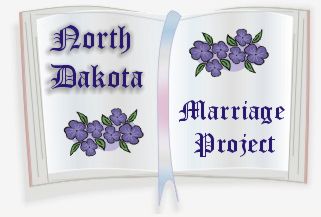 All counties are completed. If you have any marriages to add to any of the pages, please email me.
Also, I have added a page to add marriages of unknown locations.
Please check it out!
Send your transcripts to Colleen
I am looking for marriages to add.
Please submit:
Grooms full name,
Brides full name,
date of marriage and
location (Town/City county)
I will add it to the appropriate page.
---
Transcripts will be accepted and files will be placed in the USGenWeb Archives directory of the State and County, where the marriage records were originally recorded.
Send your transcripts to Colleen

Please send nothing copyrighted unless you have written permission from the author.
I do not have the resources to do look-ups. Please refer to the North Dakota lookups!
---
!!Volunteers!! are needed to make this project a success.
Please check out the State Marriage Page.
If you are interested in becoming a part of this project and would like to adopt a state, please contact Patti Jepsen
---
Don't know what County the Town you are looking for is in? Search here
You are our [an error occurred while processing this directive] visitor -- thanks for stopping by!
Search North Dakota Archives Search the Archives
North Dakota Archives North Dakota Message Boards
Return to the States Marriage page
Please sign the Guestbook..................
USGenWeb Archives (tm)



© Copyright 2001-2009 USGenWeb Archives (TM)
This page was last updated on Sunday, November 30, 2008 11:13:10