Welcome to the District of Columbia Genealogy Marriage Project.
We're glad you stopped by and hope that you will find this website useful for your research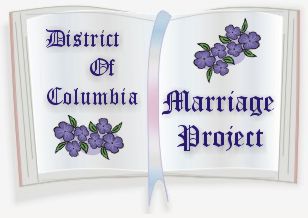 This project will endeavor to provide actual transcritpions of Marriage Applications, and other Marriage Records, as found recorded in the county court house and state archives.
We are encouraging these transcriptions to be entire marriage books and/or rolls of microfilm. Transcripts will be accepted and files will be placed in the USGenWeb Archives directory of the State and County where the marriage records were originally recorded.
Please, send nothing copyrighted, unless you have written permission from the author.
Submit Marriage Records Here - if you need help submitting records or want to donate marriage records for this project please contact our Special Project Coordinator ~ Rebecca Maloney
These electronic pages may NOT be reproduced in any format for profit.

Any other use, including copying files to other sites, requires permission from the contributors PRIOR to uploading to the other sites.

The submitter has given permission to the USGenWeb Archives to store the file permanently for free access.
---
We are always in the need of help in getting data on-line.
If you would like to contribute marriage information,
please contact me
Multiple Marriages
| | | |
| --- | --- | --- |
| DOCUMENT | DATE | CONTRIBUTOR |
| Early Trinity Church Marriage & Baptism Records 1795-1805 | Jun 2003 | Debi Remer |
| Marriage Licenses 1811-1858 | Jun 2003 | Debi Remer |
| Chase-Chezley Marriage Licenses 1811-1858 | Jun 2003 | Debi Remer |
| Johnston Marriage Licenses 1811-1858 | Jun 2003 | Debi Remer |
| Joice-Jones Marriage Licenses 1811-1858 | Jun 2003 | Debi Remer |
| Jones Marriage Licenses 1811-1858 | Jun 2003 | Debi Remer |
| Payne Marriages | Jun 2003 | D.L.Shotwell |
| Some Marriages at St. James Church, 1876-1885 | Jun 2003 | Debi Remer |
| The Evening Star, June 29, 1853, Marriages | Apr 2005 | Margy Bousman |
| The Evening Star, January 5, 1861, Marriages | Apr 2005 | Margy Bousman |
| The Evening Star, January 2, 1867, Marriages | Apr 2005 | Margy Bousman |
| Washington Post, December 13, 1877, Reed-Klotz Marriage | Apr 2005 | Margy Bousman |
| Washington Post, May 1, 1879, Marriages | Apr 2005 | Margy Bousman |
| Washington Post, August 8, 1879, Baldwin-Cooke Marriage | Apr 2005 | Margy Bousman |
| The Washington Post, November 14, 1886, Page 2 Marriages | Mar 2005 | Bonnie McDonald |
| Washington Post, Feb 15, 1890, Marriage, F.P. Smoot to Mamie M. Beacham | Mar 2005 | Bonnie McDonald |
| Washington Post, Feb 16, 1890, Marriages | Mar 2005 | Bonnie McDonald |
| Washington Post, Feb 18, 1890 Marriages | Feb 2005 | Bonnie McDonald |
| Washington Post, Feb 19, 1890 Marriages | Apr 2005 | Bonnie McDonald |
| Washington Post, Feb 21, 1890 Marriages | Apr 2005 | Bonnie McDonald |
| Washington Post, Feb 22, 1890 Marriages | May 2005 | Bonnie McDonald |
| Washington Post, January 4, 1893, Carter-Dickson Marriage | Apr 2005 | Margy Bousman |
| Washington Post, January 5, 1893, Marriages | Apr 2005 | Margy Bousman |
| Washington Post, Jan 22, 1896 Marriages | Feb 2005 | Jamie Perez |
| Washington Post, Dec 1, 1896, Marriages | Jun 1998 | Betty Topliff |
| Washington Post, March 7, 1915 Marriages | May 2005 | Barbara & Dave |
| Washington Post, Dec. 4, 1936 Licensed to Marry | Jun 1998 | Betty Topliff |
| Washington Post, Jan. 20, 1940 Applications for Marriage | Jun 1998 | Betty Topliff |
Individual Marriages
| | | | |
| --- | --- | --- | --- |
| File Description | Size | Date | Submitter |
| Benton, Sarah - Jacob, Mr. January 17, 1848 | 1K | Dec 2007 | Sharon Hamilton |
| Burch, Jessie E. - Zimmerman, William M. December 1, 1883 | 1K | May 2008 | Kim Klein |
| Decormis, Marguerite Estelle - Moore, Lewis W. November 9, 1892 | 2K | Jun 2008 | Alice Warner |
| Hunter, Emma - Allen, Thomas B. November 10, 1892 | 1K | Jun 2008 | Alice Warner |
| Kearney, Ada - Drury, P. A. November 9, 1892 | 2K | Jun 2008 | Alice Warner |
| King, Sarah E. - Roland, Charles J. August 6, 1889 | 2K | Oct 2008 | N. Taber |
| Polkinhorn, Sarah Jane - Morgan, John Bennett June 5, 1837 | 1K | Nov 2007 | Kim Klein |
Last Updated
Joy Fisher
National Coordinator
Rebecca Maloney
Special Project Coordinator
This page was first posted in February 2001 by Mary Hudson
Our thanks to Mary for all her hard work
© Copyright 2001 - USGenWeb Archives (tm)