Photographs submitted by Kim Wise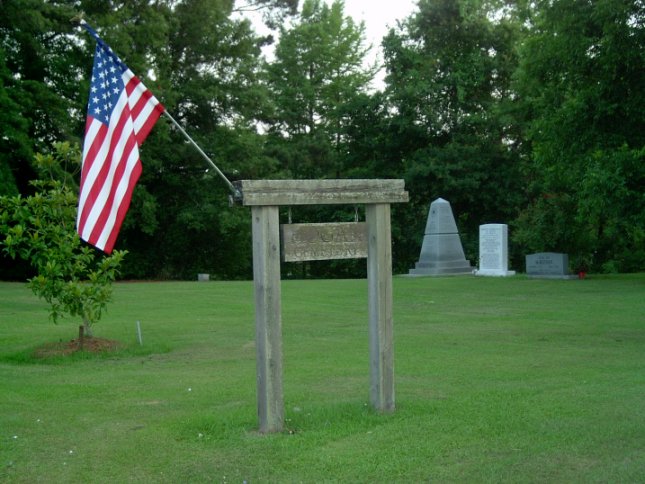 Hogan Cemetery
---
Governor John J. McKeithen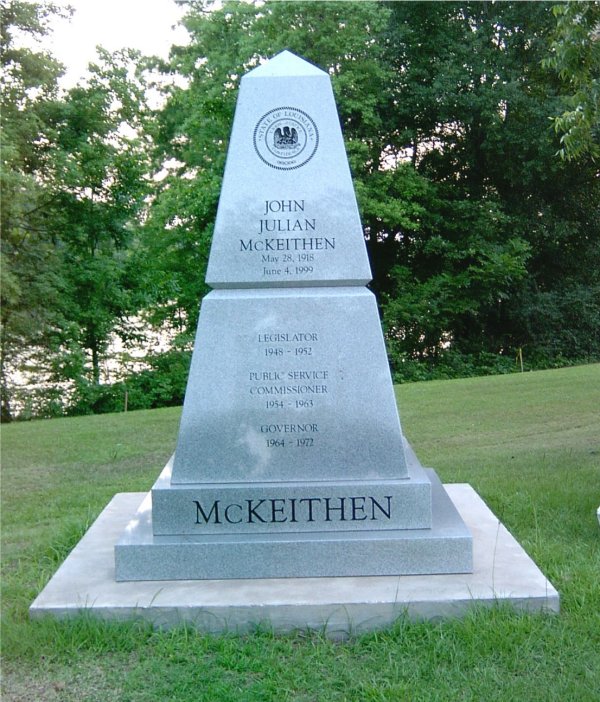 John Julian McKeithen
May 28, 1918
June 4, 1999
Legislator
1948 - 1952
Public Service Commissioner
1954 - 1963
Governor
1964 - 1972
---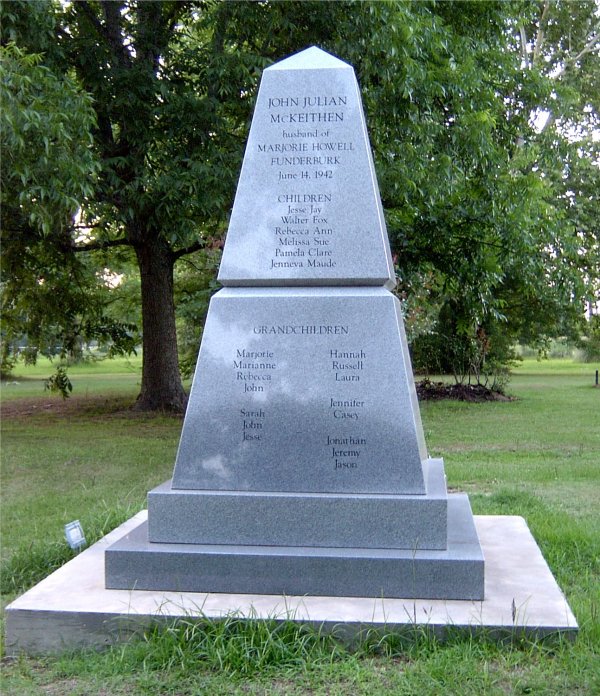 John Julian McKeithen
husband of
Marjorie Howell Funderburk
June 14, 1942
CHILDREN
Jesse Jay
Walter Fox
Rebecca Ann
Melissa Sue
Pamela Clare
Jenneva Maude
GRANDCHILDREN
Marjorie, Marianne, Rebecca, John
Hannah, Russell, Laura
Sarah, John, Jesse
Jennifer, Casey
Jonathan, Jeremy, Jason
---
John Julian McKeithen
"I wasn't born to material wealth, nor do I have claim to an aristocratic name. But if I am elected governor, it will prove that any mother's son can aspire to the highest political office of this state. I've come this far because you the people have given me your support - with all the professional politicians, power brokers, and big money people fighting me every step of the way. Because I owe you so much, you can be assured when I raise my hand to take the oath of office as Governor of Louisiana, there will be a prayer in my heart that God will always guide me to do what is best for the state and all the people in it. We'll win this race, but I need your help. Won't you help me?"
McKeithen on the Campaign Trail in 1964
---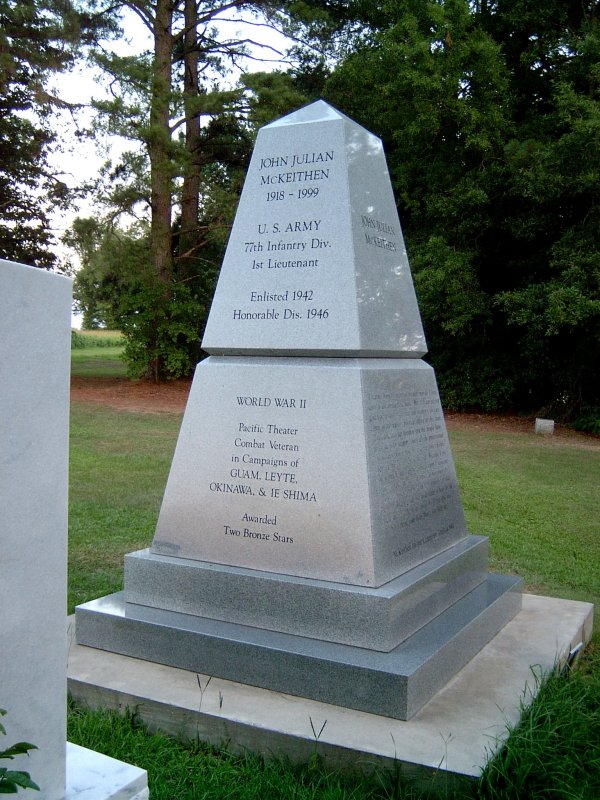 John Julian McKeithen
1918 - 1999
U. S. ARMY
77th Infantry Div.
1st Lieutenant
Enlisted 1942
Honorable Dis. 1946
World War II
Pacific Theater Combat Veteran in Campaigns of GUAM, LEYTE, OKINAWA, & IE SHIMA
Awarded Two Bronze Stars
---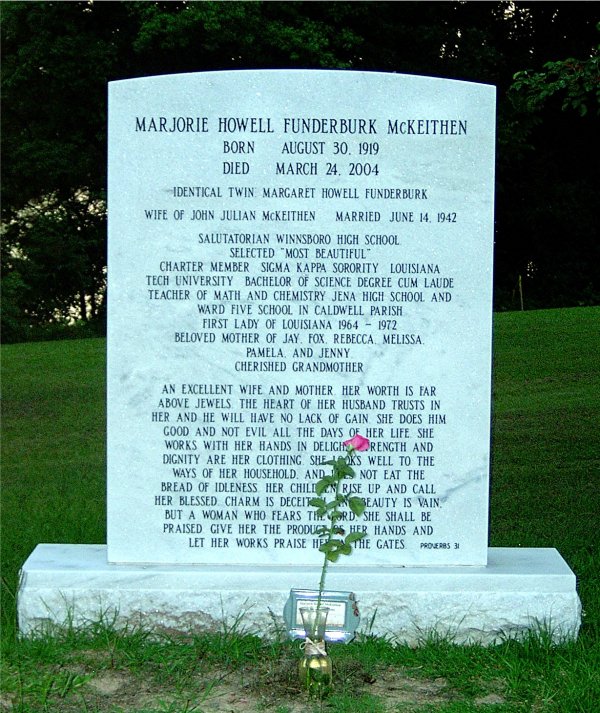 Marjorie Howell Funderburk McKeithen
Born August 30, 1919
Died March 24, 2004
Identical Twin on Margaret Howell Funderburk
Wife of John Julian McKeithen
Married June 14, 1942
Salutatorian Winnsboro High School selected "Most Beautiful"
Charter Member Sigma Kappa Sorority Louisiana Tech University

Bachelor of Science Degree Cum Laude

Teacher of Math and Chemistry Jena High School and Ward Five School in Caldwell Parish
First Lady of Louisiana 1964 - 1972
Beloved Mother of Jay, Fox, Rebecca, Melissa, Pamela, and Jenny
Cherished Grandmother
AN EXCELLENT WIFE AND MOTHER. HER WORTH IS FAR ABOVE JEWELS. THE HEART OF HER HUSBAND TRUSTS IN HER AND HE WILL HAVE NO LACK OF GAIN. SHE DOES HIM GOOD AND NOT EVIL ALL THE DAYS OF HER LIFE. SHE WORKS WITH HER HANDS IN DELIGHT, STRENGTH AND DIGNITY ARE HER CLOTHING. SHE LOOKS WELL TO THE WAYS OF HER HOUSEHOLD AND DOES NOT EAT THE BREAD OF IDLENESS. HER CHILDREN RISE UP AND CALL HER BLESSED. CHARM IS DECEITFUL AND BEAUTY IS VAIN, BUT A WOMAN WHO FEARS THE LORD SHE SHALL BE PRAISED GIVE HER THE PRODUCT OF HER HANDS AND LET HER WORKS PRAISE HER AT THE GATES. Proverbs 31
---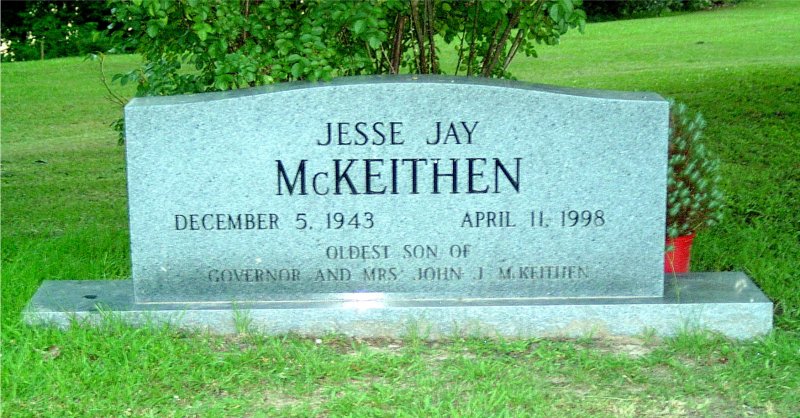 Jesse Jay McKeithen
December 5, 1943 - April 11, 1998
Oldest son of Governor and Mrs. John J. McKeithen


GET INVOLVED!



We are looking for any historical documents, articles, photos, etc. Everyone is urged to donate transcriptions of Caldwell Parish bible records, cemeteries, court records, old newspaper articles, biographies of residents, old letters, census data, obituaries, family histories, parish histories, military records, old photographs, etc.

The USGenWeb has provided easy to use forms for submitting any records to the Louisiana GenWeb Concordia Parish Archives. You can still submit a free form text document if you choose not to use the form provided. Click here to go to the FORMSor send your documents to Ann Allen Geogheganif you would like to contribute to the Concordia Parish Archive Project. Please click here to view the instructions on how to submit your information:

USGenWeb Archives File Preparation

Thank you for visiting the Caldwell Parish Archives.