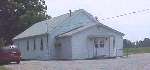 Walnut Grove Church of Christ Cemetery, Union Co., KY
(with photos)

Located in the Boxville area. This is a small, but neat country church cemetery. I visited this cemetery on 17 July 2001, a day that was in the mid 90's, but yet here at the cemetery, a nice breeze was blowing. Besides liking the area, I do have a personal interest with this cemetery. I have Owens relatives buried here.
There are only 82 stones/photo in this cemetery. I did have 2 photos that messed up on me. They were by Elijah Shelton and Thomas Whitledge. I have no idea if it was 2 stones, or views of the cemetery, or close ups of a hard to read stone. Of the readable stones, the earliest birth on a tombstone is for Julia Holeman 1847 - 1906. The earliest burial on a tombstone is for a Whitledge 1877 - 1884. This cemetery is still in use today, with the lastet burial in 2001.
Please let me know of any corrections. I will also include, if you let Maria Troutman know, any known burials that have no markers, or any other interesting info you have on this cemetery.
A | B | C | D | E | F | G | H | I | J | K | L | M | N | O | P | Q | R | S | T | U | V | W | X | Y | Z | Misc
---

Last Updated on 6:53 PM 5/1/2005
By Maria Troutman

*****************************************************************************
USGENWEB NOTICE: In keeping with our policy of providing free information on the Internet, data may be
freely used by non-commercial entities, as long as this message remains on all copied material. These
electronic pages cannot be reproduced in any format for profit or other presentation. Commercial entities
must ask for and receive permission from submitter before downloading.
Contributed by Maria T. kytroutman@bigfoot.com
Date 08 Aug 2001
*****************************************************************************