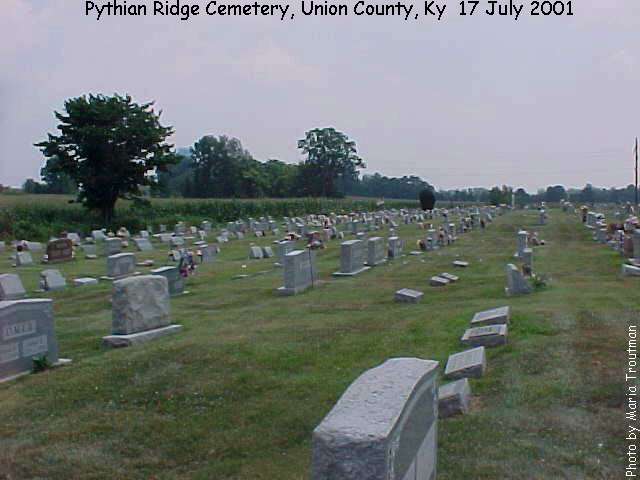 Pythian Ridge Cemetery, Union Co., KY
(with photos)
(partial listing only)
If you are travling on US 60, heading from Sturgis, towards Morganfield, Pythian Ridge Cemetery is on your right, almost immediately after going past the flood wall. Across the road from it, or on your left is Cypress Creek Cemetery. Pythian Ridge Cemetery is the "main" cemetery for the Sturgis area. It is a large cemetery. I do not see it being photographed 100% any time in the near future. (See the above photo for an idea of why).
I have visited this cemetery twice with my digital camera. July 17, 2001 and then on June 20, 2002. I mainly just walked around, where I knew I had relatives buried at. I took photos of known relatives, as well as others with similiar names, plus some that just caught my attention. The pictures below represent just a small number of the graves in this cemetery. At the current time, I live 6 hours away from this cemetery. Update - I have visited this cemetery again on July 5 & July 30, 2003 and have added approximately 370 more photos/names.
Currently, as of 30 July 2003, the oldest birth on a tombstone is Rev. Elijah Harman, born 12 Oct 1806 and he died 10 Dec 1868. The oldest death on a tombstone is Christopher C. Smith, born 26 Nov 1812 and he died 20 June 1860. Remember, these dates are only what I am seeing ON a tombstone, and ONLY include what is currently photographed. There are hundreds of stones still not photographed.
Please let me know of any corrections. I will also include, if you let me know, any known burials that have no markers, or burials that I have not photographed yet. If you have photos to include for Pythian, I will happily add them. Just email Maria Troutman.