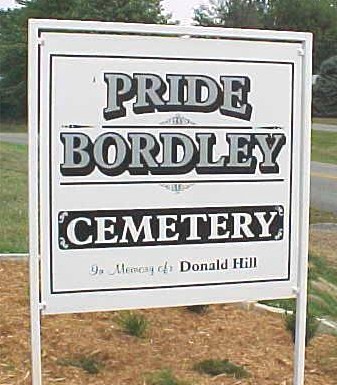 &nbsp &nbsp &nbsp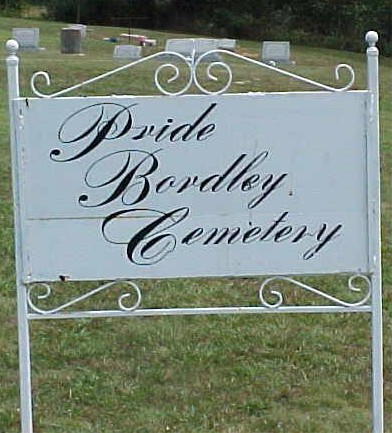 Pride Bordley Cemetery, Union Co., KY
(with photos)
(partial listing only)
If you are travling on 141 from Sullivan or Sturgis, heading towards Morganfield, Pride - Bordley Cemetery will be on your left. The sign showing above on the right, will be the sign you see near the road. The other sign above on the left, is once you turn into the cemetery and are driving on the path through the cemetery.
I have visited this cemetery to take photographs on 17 July 2001, 3 July 2003, and 24 June 2004. I started out only taking photos of familiar names that could be related or just interesting names or stones. As of this year (2004), the older section is completely photographed. The earliest birth on a tombstone is for Mrs. E. W. Potts, 1808 - 1888. The earliest death on a tombstone is for Frank Hicks who died Oct 1858. Several old stones that are too hard to read and can be found under U for Unknown. IF you can help put a name on any of these stones, or stones where I can only make out partial letters, please email me so that we can get the info added to this site.
Please let me know of any corrections. I will also include, if you let Maria Troutman know, any known burials that are not already listed. I would love to hear the history of this cemetery, when it was deeded, by who, anything that anyone knows about it's earlier years.