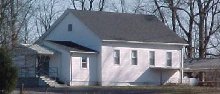 Old Bethel Cemetery, Union Co., KY
(with photos)

Located on Dodge Hill, just off of 492 in Union County. With farmland surrounding it, cows grazing ever so slowly on the other side of the fence as you walk in the cemetery, it is a very peaceful area to be at up on a hill. I visited this cemetery on Feb 17th and 18th, 2001. I took 566 digital photos, sometimes 2 & 3 of a stone. I have about 6 that didn't take for some reason. I know that one of them was for Merritt and one was for a Tucker. But I try to take one of the whole stone, as well as close ups of the older stones, so that back home, I can study them and hopefully be able to read all of the names and dates. However, that's not possible with every stone.
Of the readable stones, the earliest birth on a tombstone is for R. Dodge 1795-1845. The earliest burial on a tombstone is for John W. Cusic 1815-1815, the next oldest is Richard Dodge whose stone simply says Sept 3, 1822, age 86. If I do my math correctly, that means he was born about 1736. The cemetery is still being used even today.
Growing up not far away from here, yet never really visiting this cemetery, I was quite surprised when I pulled in to find that it was larger than I had expected! There are approximately 380 names listed below. Names listed here are only for tombstones in this cemetery. Please click on the name to view the stone and full dates. Please check under misc for 2 stones with unreadable last names.
If you would like to make a donation for the upkeep of this cemetery, the address is here. I welcome any corrections or additions. Please email Maria Troutman