---
CHAPTER IX.
TIPPECANOE IN POLITICS.
After the close of Gen. William Henry Harrison's great campaign against the capital of the confederacy there followed a brief cessation of hostilities. The renown already won by the Hero of Tippecanoe was sufficient upon which to rest his fame, but subsequent events multiplied his victories and magnified the honor of his name.
His life, from boyhood to old age, represents a panorama of activity, rich in civil, military and political honors. He was born in a great age (February 9, 1773), and was merging into manhood before he departed from the scenes of his birth (Berkeley, Charles City county, Va.). The thrilling events of the war for independence and the organization of the national Government must have had a great effect upon his youthful mind, and, no doubt, did much to mold it for the patriotic services of his life.
His father, Benjamin Harrison, signer of the Declaration of Independence, was in good circumstances, and gave his children the benefit of a good education, which the subject of this sketch received from the common schools of Virginia and from Hampton Sydney College. From this institution he graduated. In accordance with the wishes of his father, he commenced the study of medicine under Dr. Benjamin Rush, of Philadelphia, who was also a signer of the Declaration of Independence. In 1791 his father died, leaving him under the guardianship of Robert Morris, the distinguished financier of the Revolution.
Young Harrison determined upon a change of employment, and upon the counsel of President Washington joined the army in the Northwest. His guardian and most of his friends objected to this, believing his constitution not strong enough to stand the hardships of Indian warfare. Washington got him a position as ensign in the First Regiment of United States infantry, and with it he journeyed on foot across the mountains to Pittsburgh and joined the army at Fort Washington (present site of Cincinnati) just after its defeat upon the Miami. Young Harrison, as a reward for meritorious conduct, was soon made a lieutenant. The Government sent another expedition against the Indians under the intrepid General Wayne, who, like his predecessor, General St. Clair, was of revolutionary renown. Wayne built Fort Recovery upon the old battlefield where St. Clair had been worsted. At this place several skirmishes occurred, in which young Harrison participated. The army marched from Fort Recovery to the junction of the Auglaize and Maumee rivers, where Fort Wayne was erected. Near this place, upon the 20th of August, 1794, a hard-fought battle occurred. Two thousand Indian warriors were concealed in ambush when General Wayne came upon them. The battle was a telling victory for civilization over barbarism; a triumph of intelligence over ignorance. It forced the Indians to cease their murderous depredations. For his conduct in this campaign Lieutenant Harrison was given a captaincy and the command of Fort Washington.
Mr. Harrison was soon married to one of the daughters of John Cleves Symmes, one of the founders of the Miami settlement and upon a portion of whose land is now situated Cincinnati. He was a man of strictly temperate habits. He saw the evil effects of liquor while in the army, and set an example of total abstinence before his comrades. In 1791 he became a member of an abolition society in Virginia, the object of which was to better the condition of the slaves and secure their emancipation when that could be accomplished by legal means.
Captain Harrison remained in command of Fort Washington until April, 1798, when he resigned in order to accept the secretaryship of the Northwest Territory. In the following year he was chosen the delegate to Congress for the Northwest Territory, and attended one session. His labors proved to be of great value in the development of the vast territory which he represented. According to the law at that time the public domain could not be sold in tracts of less than 4,000 acres. Mr. Harrison secured the enactment of a law by which the public land was sold in alternate sections of 640 and 320 acres; this was not as much as he desired, but was all that could be obtained at that time.
When the Northwest Territory was divided and the Territories of Ohio and Indiana erected, Mr. Harrison was appointed governor of the latter, and was subsequently reappointed by Presidents Jefferson and Madison. This was before "rotation in office" came into style. In this position he remained for twelve years, form 1801 to 1813. In addition to this trust he was soon made governor of the Upper Louisiana Territory, so that he ruled with the power of a king over a vast domain. This power was never abused. He had innumerable opportunities for personal gain through his official capacity, but did not take advantage of them in any way. He negotiated treaties with the Indians during his gubernatorial term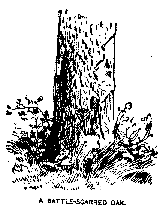 A Battle-Scarred Oak
and obtained for the Government more than 60,000,000 acres of land over which civilization has since spread. No man did more for the advancement of our territorial development than Governor Harrison. His transactions were perfectly clean. Dishonesty in official capacity never entered his mind. A foreigner named McIntosh accused him of defrauding the Indians in the treaty at Fort Wayne. Governor Harrison demanded that the charge be investigated by a court of justice. The court not only vindicated his honor but fined McIntosh $4,000. This money was divided by Governor Harrison -- one-third was given to the children of deceased soldiers and the remainder returned to McIntosh as an act of mercy.
During his term as governor of Indiana Territory occurred the rise and overthrow of Tecumseh's confederacy, which is detailed in previous chapters.
In 1812 Governor Harrison was given a command in the Kentucky militia, but was soon after made commander-in-chief of the United States Army of the Northwest. General Harrison was besieged in Fort Meigs early in 1813 by Proctor. The assailants were compelled to raise the siege after it had been kept up by them for eight days. After Harrison quartered himself at Sandusky Bay, where he remained until after Perry's victory upon Lake Erie. He then moved across the lake to attack Proctor and Tecumseh, who were then in command of a motley force of British and Indians at Fort Malden. The enemy fled upon Harrison's approach, but were overtaken at the river Thames, where, on the 5th of October, 1813, a decisive American victory was won. The British troops were soon surrounded. Proctor escaped on horseback. The Indians fought bravely, but Tecumseh being shot, they fled in confusion. This battle terminated the war in the West. After it, the command of General Harrison being limited by the secretary of war, General Armstrong, to the Eighth military district, he resigned and retired to his farm at North Bend, Ohio, to engage in the peaceful pursuits of agriculture. Congress passed the following resolution, acknowledging the invaluable services of General Harrison: "Resolved, by the Senate and House of Representatives of the United States of America in Congress assembled, That the thanks of Congress be and they are hereby presented to Major-general William Henry Harrison and Isaac Shelby, late governor of Kentucky, and through them to the officers and men of their command, for their gallant and good conduct in defeating the combined British and Indian forces under Major-general Proctor, on the Thames in Upper Canada, on the fifth day of October, 1813, capturing the British army, with their baggage, camp equipage and artillery; and that the President of the Untied States by requested to cause two gold medals to be struck, emblematical of this triumph, and presented to General Harrison and Isaac Shelby, late governor of Kentucky."
While General Harrison was governor of Indiana Territory, he concluded thirteen treaties with various Indian tribes. In 1814 he was appointed, along with Governor Shelby, of Kentucky, and General Cass, to treat with the Indians the Indians. A new and important treaty was negotiated at Greenville, Ohio. In 1815 Mr. Harrison concluded an important treaty with nine Indian tribes at Detroit.
In 1816 Harrison was elected by his district to fill a vacancy in the national House of Representatives. He was reelected to the next Congress, and in 1818 declined to be a candidate.
In 1819 General Harrison was chosen a member of the Ohio State Senate, in which position he remained for two years. In 1824 he became one of the United States Senators from Ohio. In this body he served his country as an able legislator for four years. In 1828 he was appointed by President Adams minister to the United States of Columbia, but was recalled upon the accession of President Jackson.
When he returned home he retired to his farm at North Bend, Ohio, and devoted his attention to agriculture for about ten years. In 1836 he was the whig candidate for president, but was defeated by Martin Van Buren, the democratic candidate. The National Whig Convention assembled at Harrisburg, Pa. December 5, 1839, re-nominated General Harrison for president, along with John Tyler, of Virginia, for vice-president. President Van Buren was a candidate for reelection. The whigs during his campaign cried: "Hurrah for Tippecanoe and Tyler, too!" The fact that General Harrison had lived in a log cabin was alluded to as a reproach. They said he lived in a log cabin and had nothing but hard cider to drink. His friends were quick to take advantage of these remarks, and created a popular uprising in favor of their candidate. "Hard cider" became a party watchword. The campaign was distinguished for long processions, of which log cabins formed an important feature. Harrison was elected by an overwhelming majority. The electoral vote was: Harrison, 234; Van Buren, 60.
During this campaign, on the 29th, 30th and 31st days of May, 1840, a great rally was held on the site of the Battle Ground. It was attended by a vast concourse of people from every section of the Union and addressed by many able orators of the whig party. Cattle, hogs, sheep and fowls were slaughtered in large numbers. This was the largest political gathering held in Indiana up to that date. Enthusiasm was at fever height, and the rallying cry of the whigs echoed throughout the land.
General Harrison was inaugurated president on the 4th of March, 1841. The oath of office was administered by Chief Justice Taney. Immediately after inauguration President Harrison was beset by a throng of office seekers, composed of political friends and supporters, whose desires he was anxious to gratify. He therefore gave himself up to incessant labor. The most important event of his brief administration was the calling, on March 17th, of an extra session of Congress to meet on the 31th of May, to consider the financial condition of the country. Mr. Harrison's administration was a short one, lasting but a single month. His final illness was of eight days' duration, from which he was relieved by death upon the 4th of April, 1841, when entering upon the sixty-ninth year of his age. The vice-president, John Tyler, took the oath of office as president and entered upon his duties on the 6th of the same month. Harrison's presidential term is the shortest in the history of our Government. He was the first man to die while performing the duties of that position. His last words were uttered when thinking he was addressing his successor. He said: "Sir, I wish you to understand the principles of the government. I wish them carried out. I ask nothing more." The grief produced by this National calamity was great and profound. The funeral took place in Washington City on the 7th of April. Funeral ceremonies were also held in most of the cities and towns of the Union. The 14th of May was designated by President Tyler as one to be observed with fasting and prayer. The remains of President Harrison lie buried at his home, North Bend, fifteen miles west of Cincinnati. No monument or slab marks his resting-place, but history has built for him a more enduring monument than massive columns of marble or stone.
---
---



---
---
USGENWEB NOTICE: In keeping with our policy of providing free information on the Internet, data may be freely used by non-commercial entities, as long as this message remains on all copied material. These electronic pages cannot be reproduced in any format for profit or other presentation.
---
Nancy Trice, kygenweb@usroots.com