Ballard County

KyArchives Project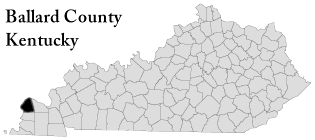 County was established in 1842 from HICKMAN and MCCRACKEN Counties.
The county seat is WICKLIFFE.
Contributions can be submitted using the automated forms feature.
When this symbol

is next to a name, they have registered their e-mail address at The Archive Registry.
Search the USGenWeb Archives - "All States and Counties"
---
Delayed Birth Records
Unknown Counties
Statewide Records

BIOGRAPHIES

/hall574gbs.txt

Hall, Charles Morgan Hall

3.0K

8-18-2020

Beverly Watson

/hall574gbs.txt

Hall, David

2.6K

8-18-2020

Beverly Watson

511gbs.txt

Reeves, Robert

-

3-21-2011

Beverly Watson


CEMETERIES

Photos
Cemetery Transcriptions
caldwell.txt

Caldwell Cemetery

3k

9/24/99
Richard B. Davis

newton.txt

Newton Cemetery

11k

9/1/2002
P. Caneer

oldhook.txt

Old Hook Cemetery

4k

9/1/2002
P. Caneer

pleasant.txt

Pleasant Ridge Baptist Church Cemetery (partial listing only)

1k

9/24/99
Elaine Helton Lorinczi

stone.txt

Stone Family Cemetery

2k

6/ /2001
Jeanette Chase


CENSUS

Images
1850
---
9/24/2007
S&K Publications

DEATHS

carter202gdt.txt
Carter, James Martin death certificate
2.0k
4/21/2005
Linda Overby-Hedge
flack243gdt.txt

Flack, John R.

3k

6/29/2005
Roger Mattingly

kentucky529gph.jpg

Flack, John R. (Death Certificate image)

273k

7/10/2005
Roger Mattingly

kentucky529gph.txt

Flack, John R. (Death Certificate text)

1k

7/10/2005
Roger Mattingly


MARRIAGES

reeves561gmr.txt

Reeves, Allie to Arthur Stewart

--

3/21/2011

Beverly Watson


MILITARY

gmt74davis.txt

Davis Robert A. - Korean Conflict - Casualty File

2k

9/22/04

Darrell Warner

f6560000.txt

Farmer, Benjamin - War of 1812 pension abstract

2k

10-20-00

Tracy McMillion

gmt75williams.txt

Williams Alvin C. - Korean Conflict - Casualty File

2k

9/22/04

Darrell Warner

gmt34wwiicasu.txt

World War II Casualty List -Army & Army Air Corps

2k

9/13/04

Sandi Gorin


MISC

ceredo.jpg

W. W. Jeter & Son, Dry Goods & Groceries, Ceredo, KY image

67k

10-20-2002

Gail

s4150001.txt

Note from Grandaddy Sullivan's Ledger

4k

1-2-2000

Terry Smith


NEWSPAPERS

runninga523gnw.txt

Running Again - Feb. 4, 1903

--

3/21/2011

Beverly Watson

specialj519gnw.txt

Special Judge - August 1902

--

3/21/2011

Beverly Watson

wheelerr518gnw.txt

Wheeler-Reeves - August 26,1898

--

3/21/2011

Beverly Watson


OBITUARIES

g200-001.txt

Gish, Henry, 1964

1.7k

1-4-98

Jim & Colleen Lovan

hibbard8261gob.txt
Hibbard, Patricia Cooper
--
19 Feb 2001
Sandy Gorin

h2000002.txt

Hook, Amy B. Hook, 1919

2k

11/28/2002

Betty Feigenbutz

h200-001.txt

Hook, Emma Young, 1887

3.01k

8-2-98

Betty Feigenbutz

h2000003.txt

Hook, J.W., 1902

2k

11/28/2002

Betty Feigenbutz

h2000004.txt

Hook, Sam, 1890

2k

11/28/2002

Betty Feigenbutz

pugh4971gob.txt

Pugh, Jeanette, 1998

05/27/2017

Sandy Gorin

4368gob.txt

Reeves, Annie Weil, 1910

-

3-21-2011

Beverly Watson

shirley6995gob.txt
Shirley, Rollin
--
25 May 2001
Sandy Gorin

s152-001.txt

Spencer, Mrs. Dora, 1954

1.63k

6-8-98

Jim & Colleen Lovan

wrightbe.txt

Wright, Betty E. 2006

2k

8-21-2006

patcher


WILLS

reeves447gwl.txt

Reeves, Sidney Preston ` 1881

3.3K

3-13-2010

Beverly Watson
Copyright, KyGenWeb Project