---
[KSGenWeb Archives] [KSGenWeb Project] [USGenWeb Project Archives] [USGenWeb Project]
---

Garfield County
Table of Contents
---
Table of Contents maintained by:
The File Manager for Kansas USGenWeb Archives Project is:
Debra Crosby

(Temporary)


Return to the County Table or visit the Finney County KSGenWeb page.

In 1892, the state instituted quo warranto proceedings against Garfield county to test the validity of its organization. The supreme court decided that it was illegally organized, having less than 432 square miles of territory (State v. Garfield Co. 54 Kan. 372), and in 1893 it was annexed to Finney (Laws of 1893, p. 173).
---
[KSGenWeb Archives] [KSGenWeb Project] [USGenWeb Project Archives] [USGenWeb Project]
---
Archives Table of Contents last updated-- Wednesday, 19-Feb-2020 06:11:05 EST
You are our
visitor -- since the counter was installed on August 27, 1998
---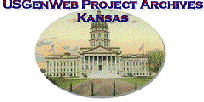 ---
Site orginaly created 1997 by Yvonne James-Henderson Page Contents & Background