---
[KSGenWeb Archives] [KSGenWeb Project] [USGenWeb Project Archives] [USGenWeb Project]
---

Finney County
Table of Contents
---
Table of Contents maintained by:
The File Manager for Kansas USGenWeb Archives Project is:
Debra Crosby

(Temporary)


Return to the County Table or visit the Finney County KSGenWeb page.

Originally Sequoyah, from the celebrated Cherokee Indian of that name, the inventor of the alphabet of his language, and a most remarkable man. Changed in 1883 to Finney, in honor of D. W. Finney, then Lieutenant-Governor of the State.1

SEQUOYAH County is 864 square miles in area, being twenty-four miles from east to west, and thirty-six miles from north to south.2

1. History of Kansas, Noble Prentis, (Winfield: E.P. Greer. 1899)

2. William G. Cutler's History of the State of Kansas
published in 1883 by A. T. Andreas, Chicago, IL.
Biographies
Description
File Size
Date
Submitter
Diehl, John E. 1864 -
4K
Mar 2007
Joy Fisher
Cemeteries
Court Records
Description
File Size
Date
Submitter
Dorner, William J. October 27, 1966
7K
Jun 2009
Jennifer Dorner
History - Directories
Description
File Size
Date
Submitter
Finney County Medical Directory 1920
3K
Feb 2009
Joy Fisher
Obituaries
Description
File Size
Date
Submitter
Burns, Two Eldest Children Of Wm. April 14, 1887
1K
Jan 2008
Jim Laird
Campbell, Dean E. March 6, 2004
1K
Aug 2007
Oz
Carlton, Paul Casey 1918
1K
Dec 2007
Joy Fisher
Fowler, David A. October 31, 2003
1K
Aug 2007
Oz
Moseley, Nola Belle Haney July 1, 1996
2K
Apr 2011
Ronnie Bowman
Winters, Eva L. (Chase) May 27, 2005
1K
Aug 2007
Oz
Photos of Tombstones
Valley View Cemetery
Description
File Size
Date
Submitter
Moseley, Nola Belle
Image 206K
May 2009
Ronnie Bowman
Vital Records - Deaths
Description
File Size
Date
Submitter
Moesley, Nola Belle July 1, 1996
2K
May 2009
Ronnie Bowman
---
[KSGenWeb Archives] [KSGenWeb Project] [USGenWeb Project Archives] [USGenWeb Project]
---
Archives Table of Contents last updated-- Wednesday, 19-Feb-2020 06:11:05 EST
You are our
visitor -- since the counter was installed on August 27, 1998
---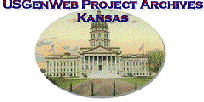 ---
Site orginaly created 1997 by Yvonne James-Henderson Page Contents & Background