USGenWeb Archives - Connecticut
Table of Contents
To submit files to the Connecticut USGenWeb Project, please go to
http://www.genrecords.net/ctfiles/ or http://www.genrecords.org/ctfiles/
and submit your files there. Or send your files by attachment to the File Manager:
The File Manager for Connecticut USGenWeb Archives Project is:
Debra Crosby

(Temporary) Volunteer Needed For State Coordinator
***Guidelines for submitting files*
***
Get Involved!
We need people like you to donate transcriptions of deeds, cemeteries, census, bible records, etc. and/or contribute tombstone photos
If you have a Connecticut file you'd like to donate to the USGenWeb Archives,
please click Here or Here to post your records or contact the File Manager
Email Registry For Contributors
Any time you see this symbol

next to a name, they have registered their e-mail address at
The Registry
. This will be their current address.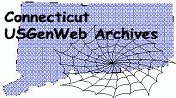 Copyright © 1997 - 2022 The USGenWeb Archives Project
Last update: Thursday, 20-Jan-2022 00:30:40 EST