Colorado USGenWeb Archives
Lakeview Cemetery
Windsor, Weld County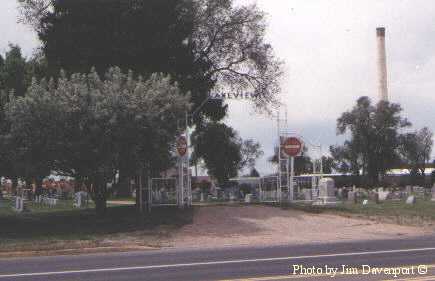 Tombstone Photographs
The photographs in this portion of the archives were contributed by:
Jim Davenport (jd)
Dorothy Elrod (de)
Dot Morris (dm)
This page was last updated Saturday, 14-Jun-2008 11:53:33 EDT
---
How to Contribute

Find a Volunteer Photographer
---
Headstones
(Click on the underlined name to download the tombstone photograph)
Blackman, Curtis C., Oct 21, 1852-Oct 27, 1925, Woodmen of the World (jd)
Haas
Hahn, Adam, 1856-1911, Woodmen of the World; and Fannie, 1852-1926; and Minnie May, 1880-1898 (jd)
Obermeier, Clara Haas, Mar 28, 1922-Oct 27, 1979 [daug. of Jacob & Katherine (Lind) Haas; wife of Victor Obermeier] (dm)
Reichert

Eva Elizabeth (Zier), Feb. 9, 1869-Feb. 14, 1943 and Jacob, Jan. 25, 1868-Oct. 4, 1939 [sone of Friedrich & Elizabeth Margaretha (Miller) Reichert] (de)

Rohn, Esther (Rohn), Nov. 19, 1919-June 26, 1939 [wife of Jacob Reichert & dau. of Oscar, Sr. & Elizabeth (Linker) Rohn] (de)

NOTE: Also buried in the same grave is Margaret Joyce Reichert (Aug. 7, 1944-Jan. 1, 1945). She was Dorothy Elrod's sister; Margaret was not the daughter of Esther.
Winckel, Pierre N., born June 10, 1892 in Stockey, Belgium; died Jan 14, 1914 in Windsor, Colo (jd)
---
Do you have any headstone photos from this or any other Colorado cemetery to add to the collection? If so, see How To Contribute.
---
Return to: Weld County Index
Return to: Colorado Tombstone Photo Project Page
---
Contributed for use by the USGenWeb Archive Project (http://www.usgenweb.org) and by the COGenWeb Archive Project
USGENWEB NOTICE: These electronic photographs may NOT be reproduced in any format for profit or presentation by other organizations or persons. Persons or organizations desiring to use this material, must obtain the written consent of the contributor, or the legal representative of the submitter, and contact the listed USGenWeb archivist with proof of this consent. The submitter has given permission to the USGenWeb Archives to store the file permanently for free access.