Colorado USGenWeb Archives
Grand View Cemetery,
Montrose, Montrose County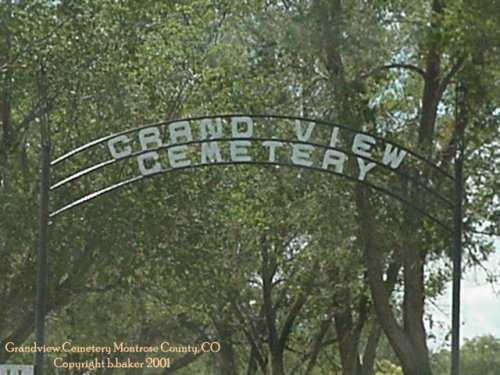 Tombstone Photographs
The Grandview Cemetery is located at 16216 Sunset Mesa Drive, Montrose.
The photographs in this portion of the archives were contributed by:
Betty Baker (bb)
Diane Faussone Bearden (dfb)
Jim Davenport (jd)
Roselee Proctor (rp>
Ken Webb (kw)
This page was last updated Saturday, 14-Jun-2008 11:53:33 EDT
---
How to Contribute

Find a Volunteer Photographer
---
Headstones: | A | B | C | D | E | F | G | H | I | J | K | L | M | N | O | P | Q | R | S | T | U | V |W | X | Y | Z |
(Click on the underlined name to view the tombstone photograph. A [text] link displays the information provided with a photograph submitted via the GenRecords form.)
B
C
F
Faussone, Reno Batista, 1911-1985 and Anna M [Marey], 1917-1999 (dfb)
Frazier, Z. T., 2 LIEUT, CO I, 5 BN VA Reserves, CSA (jd)
Freeman, George Darrol, 1899-1985, married June 15, 1921, Mabel Ann (Burtis), 1895-1990 (kw)

Mabel Ann Burtis, daughter of Harvey Theodore & Etta Alphra (Smith) Burtis
H
K
L
Lamb, Hugh Alfred, Dec 14, 1879-Jan 29, 1903, Woodmen of the World (jd)
M
McCandless, Chas. H., died Dec 19, 1904, aged 30 y 8 m 15 d, Modern Woodmen of America (Detail) (jd)
McClure, Richard Foley, Confederate States Army [TENN INF] (jd)
N
P
Parsons, E. T., died 1917, Modern Woodmen of America, Brotherhood of American Yeomen, K of P [Knights of Pythias] (jd)
R
Roatcap, Ray, 1894-1924, I.O.O.F. (bb)
S
T
V
Von Rossenberg, Chas., July 13, 1850-Aug 16, 1918, Woodmen of the World (jd)
W
Y
Yorke, Clarence E., Aug 22, 1900-Dec 5, 1918, Modern Woodmen of America (jd)
---
Do you have any headstone photos from this or any other Colorado cemetery to add to the collection? If so, see How To Contribute.
---
Return to: Montrose County Index
Return to: Colorado Tombstone Photo Project Page
---
Contributed for use by the USGenWeb Archive Project (http://www.usgenweb.org) and by the COGenWeb Archive Project
USGENWEB NOTICE: These electronic photographs may NOT be reproduced in any format for profit or presentation by other organizations or persons. Persons or organizations desiring to use this material, must obtain the written consent of the contributor, or the legal representative of the submitter, and contact the listed USGenWeb archivist with proof of this consent. The submitter has given permission to the USGenWeb Archives to store the file permanently for free access.