Colorado USGenWeb Archives
Bucklen Cemetery
Karval, Lincoln County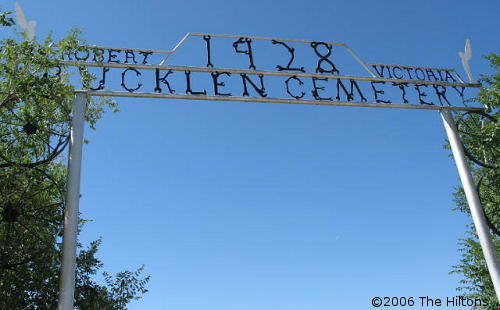 Tombstone Photographs
The Bucklen Cemetery is located 0.7 miles north of the town of Karval on the west side of Road 29. The GPS coordinates are N38°44'42" W103°32'10".
The photographs in this portion of the archives were contributed by:
The Hiltons (erh)
---
How to Contribute

Find a Volunteer Photographer
---
Headstones
(Click on the underlined name to download the tombstone photograph)
B
C
Casteel,

Julian Wilson, June 28, 1903-Mar 15, 1997, MOMM3 US NAVY WORLD WAR II (erh)

Clark, Rex, Mar. 10, 1924-Nov. 14, 2003 and Betty (Mosher), Back of Stone (erh)
Cooper,
D
E
Evilsizer-Payton, Cindy E., Sept. 10, 1954-June 19, 2001, Daughters Sabra and Megan (erh)
G
H
Hall, Sabra, 1885-1941 (erh)
Hardin,
Harris,

Bruce E., Oct. 6, 1949-Sept. 23, 2001, Son of Earl and Vera (erh)
Lloyd A. , 1917-1987 and Eleanor A., 1916-2001, Wed March 26, 1938 (erh)

Hasty, Jewell Maxine Middleton, Oct 21, 1928-July 14, 1983, reverse (erh)
Heaton, Lucille, 1923-1975 (erh)
Holmes,
Huddleston,
J
James,
Johnson, Mary Mildred, Oct 18, 1908-Feb 22, 1943 (erh)
K
L
Lemay,
Leonard, Gwendal L., Apr. 16, 1935-July 15, 1995 and Patricia L., Mar. 26, 1938 (erh)
Lockwood, Marquis D., 1886-1942 and Sylvia ?, 1884-???? (erh)
Logan, J. Charles, 1918-1992, Father and P. Pauline, 1919-1991, Mother and Barbara E., 1951-1990, Daughter (erh)
M
Marshall,
McCoy, Janet L., 1939-2003 and Robert L. (erh)
Middleton, Bertha L. 1892-1934 and Clarence L 1890-1960 (erh)
Miller, Wayne Jacob, Mar. 31, 1914-May 7, 1993 and Ruby Lois, July 16, 1914-Nov 9, 1994 (erh)
N
O
Olson, Mary Naomi, Sept. 7, 1918-Oct. 5, 1990 (erh)
P
Q
R
Riemenschneider,
Riggs, Lee, 1817-1934 (erh)
Roberts,
Robertson, Grover (erh)
Rowton,
Rutledge,
S
Samuelson,
Schack,
Seymour, Garrett D., died 1992 (erh)
Shellhorn,
Shroyer,
Simmons, Lawrence Eugene 1938-2002, MSG US Army Vietnam BSM, closeup, (erh)
Smith,
Stone,
T
W
Walters, Ada, 1910-1995 (erh)
Webb, Charles H., Sept 25, 1911-Jan 19, 1994 and Alice M., July 27, 1915-____ (erh)
Wesner, James Allen, Oct. 18, 1863-Mar. 7, 1932 (erh)
Wezel,
White, Ellen, 1928-200? (erh)
Will, Jesse 1890-1965 and Ora H Crist 1893-198? (erh)
Wineinger,
Witt,
Y
---
Do you have any headstone photos from this or any other Colorado cemetery to add to the collection? If so, see How To Contribute.
---
Return to: Lincoln County Index
Return to: Colorado Tombstone Photo Project Page
---
Contributed for use by the USGenWeb Archive Project (http://www.usgenweb.org) and by the COGenWeb Archive Project
USGENWEB NOTICE: These electronic photographs may NOT be reproduced in any format for profit or presentation by other organizations or persons. Persons or organizations desiring to use this material, must obtain the written consent of the contributor, or the legal representative of the submitter, and contact the listed USGenWeb archivist with proof of this consent. The submitter has given permission to the USGenWeb Archives to store the file permanently for free access.