Colorado USGenWeb Archives
Florida Cemetery
(AKA Florida Mesa Cemetery; AKA Hood Cemetery)
Rural, La Plata County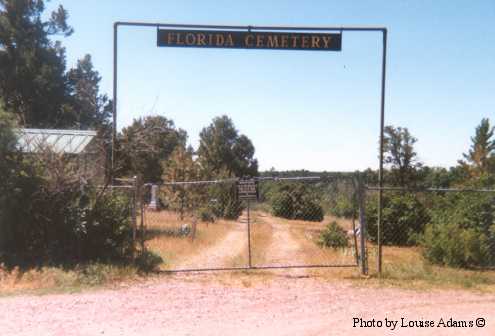 Tombstone Photographs
The Florida Cemetery is several miles east of Durango. It is called the Florida Cemetery, and has been previously known as the Florida Mesa Cemetery, and before that as the Hood Cemetery. Just inside the gate is a small, well kept building where visitors can view a map and cemetery records. The cemetery is located by a little church at the intersection of La Plata County Road 223 & County Road 228.
The photographs in this portion of the archives were contributed by:
Louise Adams (la)
Jim Davenport (jd)
---
How to Contribute

Find a Volunteer Photographer
---
Headstones
(Click on the underlined name to download the tombstone photograph)
Akers, Leon Edison, 1891-1918, Woodmen of the World (jd)
Allan, Lawrence E., 1895-1920, Woodmen of the World (jd)
Gribble

Andy [Andrew], no dates (la)

Andrew Gribble, born 6 Nov 1876 was the son of John William & Rachel Matildy (McClure ) Gribble.

M. [Rachel Matildy (McClure)], [Dec 5, 1831-Mar 20, 1894] (2nd grave marker) (la)
McClure, Tim J., 1838-1912, Pioneer (la)
Patterson, Levi H., Sep 5, 1847-June 12, 1901, Woodmen of the World & Mason; and Susan Thorn Patterson, Oct 26, 1854-June 6, 1935 (jd)

Military Marker, CO. F, 6 KANS CAV (at foot of Levi H. Patterson grave) (jd)

Pickens, Harold L., 1923-1993, US ARMY, World War II (la)
Sowers, Jesse A., 1869-1935, Modern Woodmen of America (jd)
---
Do you have any headstone photos from this or any other Colorado cemetery to add to the collection? If so, see How To Contribute.
---
Return to: La Plata County Index
Return to: Colorado Tombstone Photo Project Page
---
Contributed for use by the USGenWeb Archive Project (http://www.usgenweb.org) and by the COGenWeb Archive Project
USGENWEB NOTICE: These electronic photographs may NOT be reproduced in any format for profit or presentation by other organizations or persons. Persons or organizations desiring to use this material, must obtain the written consent of the contributor, or the legal representative of the submitter, and contact the listed USGenWeb archivist with proof of this consent. The submitter has given permission to the USGenWeb Archives to store the file permanently for free access.