Colorado USGenWeb Archives
Badito Cemetery
(aka Huerfano Cemetery; aka Pino Family Cemetery)
Badito, Huerfano County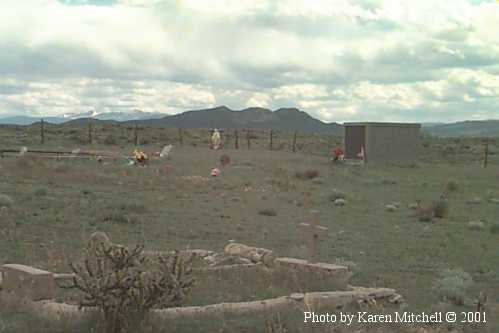 Tombstone Photographs
From Walsenburg take Hwy. 69 to mile marker 10, turn north and follow the gravel road till you cross the dry arroyo. At the top turn left at the wire gate. Please be sure to close the gate as you enter and exit. Section 1, Twp 27, Range 68.
The photographs in this portion of the archives were contributed by:
Karen Mitchell (km)
---
How to Contribute

Find a Volunteer Photographer
---
Headstones: | A | B | C | D | E | F | G | H | I | J | K | L | M | N | O | P | Q | R | S | T | U | V |W | X | Y | Z |
(Click on the underlined name to download the tombstone photograph)
Aguirre, Eloy, 9-16-21 - 4-6-99, age 77 (km)
Duran, Barney, July 9, 1918-May 22, 1961 (km)
Gabaldon, Jose D. J, 1889-1982 (km)
Garbiso
Garcia
Maes
Maez
Manchego, David, 1853-Dec 13, 1928 (km)
Martinez
Montoia, Vanola, [no dates] (km)
Montoya
Pino
Purjue, J. T, Feb 16, 1930-Aug 18, 1937 (km)
Quentana, Earnest, 1919-May 27, 1935 (km)
Quinana

Edith Caral, born April 1, 1937 [nothing further] (km)
Erminda, born May 1, 1925 [nothing further] (km)

Quintana, Vincente, died Oct 18,1926 (km)

*Died 10/21/1926, buried 10/23/1926; residence, Badito; age 28 years, husband of Delfina Espinoza, *Sacred Heart Death Records (km)
Ramirez, Fabian, Oct 25, 1933-Jun 16, 1989, with mother Andrea Garbiso, US Navy, Korea (km)
Roybal, Manuel, 1879-1959 [died 7 Mar 1959, age 79] (km)
Riva, ???, 1923 [or 25]-May 9, 1928 (km)
Salas, Madalena, May 2, 1925-June 10, 1926
Soto, Claudina Arnenta, 1876-1967 (km)
Stammen, William Delwin, Sep 1, 1932-Apr 24, 1978, PVT US ARMY, Korea (km)
---
Do you have any headstone photos from this or any other Colorado cemetery to add to the collection? If so, see How To Contribute.
---
Return to: Huerfano County Archives Index
Return to: Colorado Tombstone Photo Project Page
---
Contributed for use by the USGenWeb Archive Project (http://www.usgenweb.org) and by the COGenWeb Archive Project
USGENWEB NOTICE: These electronic photographs may NOT be reproduced in any format for profit or presentation by other organizations or persons. Persons or organizations desiring to use this material, must obtain the written consent of the contributor, or the legal representative of the submitter, and contact the listed USGenWeb archivist with proof of this consent. The submitter has given permission to the USGenWeb Archives to store the file permanently for free access.