Colorado USGenWeb Archives
City Cemetery
Lake City, Hinsdale County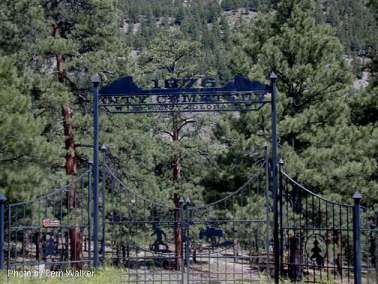 Tombstone Photographs
The small City Cemetery, established in 1876, is located a half mile north of Lake City on Highway 149. The nearby IOOF Cemetery, established 1877, was opened to the public in 1900 and soon became "the" Lake City Cemetery of choice.
The photographs in this portion of the archives were contributed by:
Jim Davenport (jd)
Fern Walker (fw)
This page was last updated Saturday, 14-Jun-2008 11:53:33 EDT
---
How to Contribute

Find a Volunteer Photographer
---
Headstones: | A | B | C | D | E | F | G | H | I | J | K | L | M | N | O | P | Q | R | S | T | U | V |W | X | Y | Z |
(Click on the underlined name to download the tombstone photograph)
Baker, Harriet, 1848-1888 (fw)
Bardwell, George Dwight, Jul 29, 1866-Mar 19, 1908, Woodmen of the World (jd)
Bell
Brown, John H. (no dates), Co C 161st Ohio Mtd Guards (fw)
Burr, Thos. (no dates), Co A 3rd Colo Cav (fw)
Buttrick, Lowell H, 1891-1961, Kansas PFC Prov Wagon Tn QMC WWI (fw)
Chapman, Jas. A., CAPT, CO B 16, ILL INF (jd)
Coburn
Collins, Sara A, 1830-1898 (fw)
Cooper, Pearl, 1887-1900 (fw)
Goodwin, Robert R, 1833-1910, PVT Co B 9th MO Cav (fw)
Johnson, Arthur E, died 1936, PVT 123rd Spruce SQ (fw)
McGraw, Ed, died 1899 age 24 (fw)
---
---
Return to: Hinsdale County Index
Return to: Colorado Tombstone Photo Project Page
---
Contributed for use by the USGenWeb Archive Project (http://www.usgenweb.org) and by the COGenWeb Archive Project
USGENWEB NOTICE: These electronic photographs may NOT be reproduced in any format for profit or presentation by other organizations or persons. Persons or organizations desiring to use this material, must obtain the written consent of the contributor, or the legal representative of the submitter, and contact the listed USGenWeb archivist with proof of this consent. The submitter has given permission to the USGenWeb Archives to store the file permanently for free access.