Colorado USGenWeb Archives
Fairview Cemetery
Fountain, El Paso County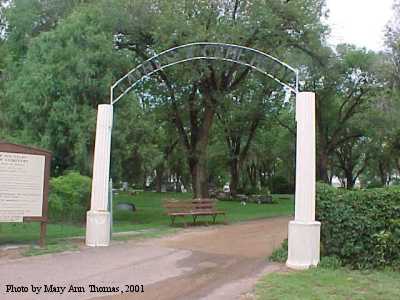 Tombstone Photographs
This cemetery is located on the west side of Fountain at 757 South Sante Fe Avenue. Exit Interstate 25 at 128, proceed left over bridge 1/4 mile. Turn right at traffic light, and proceed about a block to the cemetery entrance. Beautiful, well kept cemetery.

NOTE: This cemetery is NOT the same cemetery as the Fairview Cemetery in Colorado Springs.
The photographs in this portion of the archives were contributed by:
Jim Davenport (jd)
Pamela Owens (po)
Mary Ann Thomas (mt)
---
How to Contribute

Find a Volunteer Photographer
---
Headstones
(Click on the underlined name to download the tombstone photograph. A [text] note points to the form submitted with photographs via the genrecords.org system.)
A
Adkins
Allen, Mary Eudora, 1889-1892, Daughter of JD and RA (po)
Ames

A.E., 1818-1903, Wife Jane (po)
Alvin C., 1859-1899 (po)
Archie E., 1874-1895, No Photo (po)
Jane M., 1818-1897, Wife of A.E. (po)
Leslie B., 1857-1887, Parents A.E. and Jane (po)

Anderson, Delia May, 1888-1904, Daughter of JM and EO AndersonA (po)
Aragon, Rose Areliay, 1926-1927, Beloved daughter (po)
B
Bader, Walter, 1889-1904, Gone but not forgotten (po)
Barry, Flora, 1874-1928, [Same stone as Jarard Barry] (po)
Behrens, John Henry, 1846-1899, Wife Cynthia (po)
Behrens, No name, 1878-1879, Son of JH and CA (po)
Belch, Jennie B., 1845-1912, Teacher (po)
Bell
Benedict, Joseph E., 1857-1928, Father, Wife Irene (po)
Bowlby, Joseph E., 1870-1873, Son of Samuel and Elisabeth (po)
Brewer, Thomas J., 1830-1898, Father, Wife Henrietta (po)
Burnham, Maurice, 1822-1912 (po)
Burns, T. B., 1833-1918 (po)
Burnside, Amanda Kinder, 1859-1943 [see Kinder below]
Butler
C
Campbell
Cell
Childs
Christian
Collins, Lizzie, 1856-1926, Mother (po)
Colorado, Rita and Cruz, November - 1925 (po)
Considine, Amanda, 1852-1918, Wife of MJ Considine (po)
Corbin

Gracie, July 1870-Jul 4, 1880, Daughter of MB and ML Corbin, Aged 10 Yrs 2 Days (po)
Marcus B., Nov 2, 1829-May19, 1896 Born Dudley, Mass. Died Fountain, Col. Like as a father pilleth his children, so the Lord pilleth them that fear him. Psalms (po)
Mary L., Oct 31, 1836-Feb 8, 1903, In memory of... Wife of Marcus B. Corbin. The Dead in Christ shall rise first (po)

Cordova, Fidelia G., 1893-1930, Mother (po)
Crabb
Cramer, J.A., May 10, 1822-Jun 18, 1879 (po)
D
Davis, Martha Ann, 1819-Jan 4, 1878, Our mother. Age 58 yrs 3 mos 16 days (po)
Dean, William, Dec 14, 1850-May 15, 1901 (po)
DeGroot
Dillie, Samuel T., 1886-1923, Woodmen of the World (jd)
Dilts, Oscar D., 1895-1918 (po)
Dittrick, Anna, 1832-1912 (po)
Dodge, Lula M., Nov 27, 1860-Oct 27, 1890, Wife of DC (po)
E
Ermel
Eubank
F
K
L
Lock, William C., 1886-1923, Woodmen of the World (jd)
P
Pyles, Thomas B., 1846-1921, Woodmen of the World (jd)
R
Reeve, James A., May 29, 1852-Jan 23, 1901, Woodmen of the World (jd)
Rounsavell
---
Do you have any headstone photos from this or any other Colorado cemetery to add to the collection? If so, see How To Contribute.
---
Return to: El Paso County Index
Return to: Colorado Tombstone Photo Project Page
---
Contributed for use by the USGenWeb Archive Project (http://www.usgenweb.org) and by the COGenWeb Archive Project
USGENWEB NOTICE: These electronic photographs may NOT be reproduced in any format for profit or presentation by other organizations or persons. Persons or organizations desiring to use this material, must obtain the written consent of the contributor, or the legal representative of the submitter, and contact the listed USGenWeb archivist with proof of this consent. The submitter has given permission to the USGenWeb Archives to store the file permanently for free access.