1906 San Francisco Earthquake
Newspaper Images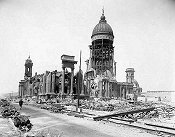 The California earthquake of April 18, 1906 ranks as one of the most significant earthquakes of all time. At 5:12 a.m., a foreshock occurred with sufficient force to be felt widely throughout the San Francisco Bay area. The great earthquake broke loose some 20 to 25 seconds later, with an epicenter near San Francisco. Violent shocks punctuated the strong shaking which lasted some 45 to 60 seconds. Although it lasted only a minute but caused the worst natural disaster in the nation's history. Modern analysis estimates it registered 8.25 on the Richter scale. The earthquake was felt from southern Oregon to south of Los Angeles and inland as far as central Nevada. The frequently quoted value of 700 deaths caused by the earthquake and fire is now believed to underestimate the total loss of life by a factor of 3 or 4. Most of the fatalities occurred in San Francisco, and 189 were reported elsewhere.
These wonderful newspaper images are made possible by the efforts of Phyllis Stegl and were scanned by Ted Smith. Please click the images below to see the larger scan.
San Francisco Chronicle, April 22, 1906
---
San Francisco Examiner, April 26, 1906
---